Demetrios Andreou Kappos
---
Born:
27 September 1904 in Lidoriki, Greece


Died:

8 January 1985 in Munich, Germany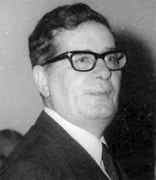 Click the picture above
to see three larger pictures
---
Demetrios Kappos was born in Lidoriki, a small Greek town about 20 km north of the Gulf of Corinth in a picturesque situation looking down on Lake Mornos, with the mountains of Giona behind it. Kappos attended the secondary school in his home town of Lidoriki studying at the University of Athens for his university studies. There were three major Greek mathematicians at Athens at this time, namely Georgios Remoundos, Panagiotis Zervos and Nikolaos Hatzidakis.

At this point we record that this biography is based on [3], Melissa Iacovidou's translation of various Greek documents relating to Demetrios Kappos.

In 1928, Kappos began to work as a mathematics teacher in Secondary Education, teaching at the Secondary School in Lidoriki where he had been educated, and later he taught in a high school in Thessaloniki. In 1932 he was awarded a scholarship for further education abroad, following a competition from the Ministry of Education in which he was ranked in first place. This gave him the opportunity to travel to Germany and study at the University of Munich from 1934 to 1938.

When Kappos arrived in Munich in 1934 his intention was to specialise in theoretical physics since he had performed exceptionally well in mechanics. He therefore took courses given by Arnold Sommerfeld, the professor of theoretical physics, and participated at Sommerfeld's seminars, sometimes presenting himself topics on the Theory of Dynamics. Sommerfeld had been impressed with Kappos's performance in a vector analysis course and, seeing his excellent contributions to the seminar, he suggested that Kappos undertake research for his doctorate. Sommerfeld, who had an outstanding reputation as a thesis advisor, offered to supervise Kappos's thesis and suggested a topic for him to work on. This was indeed an honour for the young Greek, but he had realised that his real passion was in mathematics and not in theoretical physics, so he declined Sommerfeld's offer.

The professor of mathematics at Munich was Constantin Carathéodory who was a Greek who had been born in Berlin, Germany. Carathéodory was one of the leading mathematicians in the world and he introduced Kappos to the ways of mathematical research. It is doubtful whether anyone else could have been such a support to the young Kappos who later said, "I learned how to work because of Carathéodory." The relationship between the two Greeks was more than a simple professor-student relationship for Kappos was a frequent guest at the Carathéodory home, and also a companion of the professor at the park in the area known as the English garden.

During his stay in Munich, Kappos mostly worked on the Theory of Dynamics, Real Functions, and Calculus. He proved himself an extremely talented researcher so his professors Carathéodory and Sommerfeld proposed him for the very prestigious 2-year "Alexander von Humboldt Stiftung" scholarship. In fact Kappos studied under Carathéodory for five years (1934-1938) in Munich, although Carathéodory did spend some time in the United States in 1936-37. These years in Munich allowed Kappos to have close contact with Carathéodory but after he returned to Greece he was in frequent contact with the professor who, by this time, had retired from his professorship.

Of course the years 1934 to 1938 that Kappos spent in Munich were years in which the Nazis were consolidating power and gearing up for war. Although this had an increasing effect on universities, with those of Jewish background being dismissed, Carathéodory kept his head down trying hard to avoid trouble and Kappos's education did not suffer although it must have been a very difficult period for the young man. In 1938 he returned to Greece, where he worked as a Secondary School teacher in Athens and as an assistant at the National Technical University of Athens. He continued secondary school teaching until 1942 through a time of great hardship in Athens. The Italian army invaded Greece in October 1940 but were pushed back by the Greek army. Germany intervened to help the Italians in April 1941 and by May of that year Greece was defeated and occupied by Germany, Italy and Bulgaria. The occupying forces plundered the fuel supplies, food and industry. The situation was made worse by an Allied naval blockage of Greece, aimed at weakening the military efforts of the occupying forces but had the effect of cutting of all food imports. The lack of food was serious by the summer of 1941 and by the winter of 1941-42 had turned into a major famine with large numbers of Greeks starving to death. It was a particularly difficult time for Kappos who had so many strong links with Germany.

After World War II ended, Kappos returned to Germany. He taught for three semesters at the University of Bamberg, the winter semester of 1946-47 when he taught 'Introduction to Analysis', the summer semester of 1947 when he taught 'Introduction to Higher Algebra Part I' and the winter semester of 1947-48 when he taught 'Introduction to Higher Algebra Part II'. After this he taught at Erlangen University until he returned to Greece in 1953 but at this time he retained his position at Erlangen. After taking leave of absence from Erlangen from 1953 to 1956 he resigned his position there when his position in Athens became secure.

Kappos had been elected as an extraordinary professor at the University of Athens in 1952 and took up the appointment in the following year. It was only when his position in Athens became permanent in 1956 (he was appointed to the chair of mathematics at the University of Athens at this time), that he resigned from Erlangen University in Germany. After his appointment to the chair although he spent time in Germany on a number of occasions as a Visiting Professor, he kept his chair at the University of Athens and was the main person to initiate a new era of mathematics in Greece.

In 1958 Kappos organised a research school, which was active up until 1975. This was probably the only such school in Greece where the mathematical sciences were taught at the level of current research and many future Greek professors of mathematics were taught there. The school produced many doctoral theses, and publications by students and collaborators of Kappos.

For a list of publications by Kappos, see THIS LINK.

Also in 1958 Kappos began work on a series of textbooks which would be published between 1960 and 1967. These were the texts (i) Lectures on Analysis. Infinitesimal Calculus (ii) Lectures on Analysis. Theory of Complex Functions (iii) Lectures on Analysis. Differential Equations (iv) Introduction to algebra. He also published the three books Analysis Exercises. Infinitesimal Calculus Part A, Part B and Part C.

Due to the importance of Kappos's research on Probability Theory, the publishing company, Springer-Verlag, asked him to write a book on the topic. Despite the heavy workload at the University of Athens, he responded positively and the result was Strukturtheorie der Wahrscheinlichkeitsfelder und -Raume

Ⓣ

(1960). Chr Pauc writes in a review:-

In this book, the author presents the foundations of Kolmogorov's theory of probability, or more precisely, the abstract (that is, topology-free) theory of measure, with special emphasis on the independence properties and structure of Boolean rings. Much of the material has until now mostly been found in isolated articles.
For Kappos's Preface and an extract from a review of this book, see THIS LINK.

Let us quote from [1] concerning the 1950s when George Gregory Roussas studied for his mathematics degree, taught by Kappos, at the University of Athens. After graduating:-

George served his required military service as a private in the Greek army for two years, improved his knowledge of the English language, and successfully passed an examination for a fellowship from the State Fellowship Foundation for postgraduate study abroad. At that time, a degree in mathematics meant a one-way street to high school teaching, which George was not looking forward to. ... Due to financial considerations, the Fellows who successfully passed the English language examination were automatically sent to the United Kingdom. It was at that point that Professor Kappos effectively intervened with the leadership of the State Fellowship Foundation and persuaded them to allow George go to the United States instead. ... In the core mathematical subjects, Kappos was the lone modern mathematician at the University of Athens. George served as his teaching assistant when he was a junior and senior and also for about ten months between the time of his discharge from the military and his departure to the United States.
Bartel van der Waerden was awarded an honorary degree by the University of Athens in 1961. Kappos spoke during the award of the honorary doctorate at the Mathematics and Physics School and his excellent speech, published in the Bulletin of the

Greek Mathematical Society

, is a valuable resource for giving an overview of mathematical developments in the first half of the 20th century.

Beginning in 1962, as the professor of mathematics at the University of Athens, the Ministry of Education appointed him to the Commission for Experimental Study and Teaching of Mathematics in Secondary Education. The result of his collaboration on the commission was the publication of three volumes of Mathematics for the first three grades of Secondary School.

In 1963, he gave a course on Mathematical Logic at the Seminar for Further Education of Teachers of Mathematics in Secondary Education. These lectures were issued by the Ministry of National Education and Religious Affairs under the title "Basic Concepts of Mathematical Logic". Later in 1963, invited by Eugene Lukacs, he went to the Catholic University of America, Washington, D.C. in the United States and gave the course of lectures 'Probability Algebras and Stochastic Spaces' during the academic year 1963-64. A book with the same title as his lectures was published in 1969. The Publisher gives the following description of the work:-

'Probability Algebras and Stochastic Spaces' explores the fundamental notions of probability theory in the so-called point-free way. The space of all elementary random variables defined over a probability algebra in a point-free way is a base for the stochastic space of all random variables, which can be obtained from it by lattice-theoretic extension processes. This book is composed of eight chapters and begins with discussions of the definition, properties, scope, and extension of probability algebras. The succeeding chapters deal with the Cartesian product of probability algebras and the principles of stochastic spaces. These topics are followed by surveys of the expectation, moments, and spaces of random variables. The final chapters define generalised random variables and the Boolean homomorphisms of these variables.
For an extract of Kappos's Preface to this book, see THIS LINK.

Kappos organised three international meetings in Athens in the three consecutive years, 1961, 1962, and 1963. Having been involved in the organising international mathematical meetings four years apart, the authors of this article are amazed at how Kappos, with very little support, could undertake this incredible amount of work. As if this was not enough, he organised the International Symposium on Probability Methods in Analysis which was held in Loutraki from 22 May to 6 June 1966.

In 1970 Kappos retired from his chair in Athens having reached the age of 65. He did not take the opportunity to have a quiet life for he was a Visiting Professor in Germany over the following years. He was a Visiting Professor at the Technical University of Munich (1970-71), at the University of Stuttgart (1972-73), at the Technical University of Munich (1975-76) and at the University of Munich (1976-78). Back in Greece, he taught courses at the University of Crete during session 1978-79. This University was established in 1973 but it only began operating in session 1977-78. This was not the only new Greek university that Kappos had taught at since he taught at the University of Patras in session 1966-67. This university had been established in November 1964 and the the School of Mathematics and Physics was founded on 19 October 1966, so Kappos lectured there in the first year in which the School began operating.

During his career, Kappos lectured at many universities in Europe and in the United States. For example, in Germany he lectured at the Technical University of Munich, the University of Munich, the University of Bamberg, the University of Erlangen, Frankfurt University, Hamburg University, the University of Stuttgart, East Berlin University, and in Denmark at the University of Aarhus. In the United States he lectured at the University of Maryland, the California Institute of Technology, the University of California at Los Angeles, the University of California at Berkeley, Stanford University, and Washington University in Seattle. He also lectured at the University of British Columbia in Vancouver, Canada.

In the winter of 1985 while in Munich and completing his monumental work "Probabilistic Methods in Quantum Mechanics", he died peacefully beside his family.


Article by: J J O'Connor and E F Robertson
---
List of References (3 books/articles)
Mathematicians born in the same country
Additional Material in MacTutor
---
Other Web sites