Ivan Vsevolodovich Meshchersky
---
Born:
10 August 1859 in Arkhangelsk, Russia


Died:

7 January 1935 in Leningrad, USSR (now St Petersburg, Russia)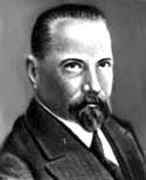 Click the picture above
to see a larger version
---
Ivan Vsevolodovich Meshchersky's family were not particularly well off but they managed to give him a solid education at the

Gymnasium

at Arkhangelsk. He entered this secondary school in 1871 and graduated with the gold medal in 1878. He then entered the Physics and Mathematics Faculty of St Petersburg University where he studied mathematics and mechanics. There he attended mathematics lectures by Chebyshev and A N Korkin, who was himself a student of Chebyshev.

Meshchersky taught in St Petersburg for 58 years. He obtained a Master's Degree in applied mathematics in 1889 and was appointed as a

dozent

at the university in 1890. In the following year he was appointed to the chair of mechanics at St Petersburg Women's College and he held this, in addition to a number of other posts, until 1919 when the College ceased to exist as an independent institution being incorporated into St Petersburg University.

He undertook research on mechanics, publishing works such as The pressure on a wedge in a two-dimensional stream of unbounded width in 1886. This paper generalised the solution of the problem of the flow of a jet around a symmetric wedge obtained by D K Bobylev in 1881 to a nonsymmetric wedge. Meshchersky obtained a complete solution for this more complex case of flow around a nonsymmetric wedge and the paper [3] considers in detail the mathematical methods which he used, in particular comparing his methods to analogous ones of Western authors.

Meshchersky is best known, however, for his work on the motion of bodies of variable mass which he described in January 1893 at a meeting of the

St Petersburg Mathematical Society

. He continued to develop his work on this topic for his dissertation entitled The dynamics of a point of variable mass, which he submitted in 1897 [1]:-

He began the thesis with a discussion of the many instances in which the mass of a moving body changes, citing as examples the increase of the mass of the earth occasioned by meteorites falling on it; the increase of the mass of an iceberg with freezing and its decrease with thawing; the increase of the mass of the sun through its gathering of cosmic dust and its decrease with radiation; the decrease of the mass of a rocket as its fuel is consumed ...
He applied his theory to comets being the first to study the inverse problem of determining the loss of mass from a knowledge of the orbit and the forces acting. His work on the motion of particles of variable mass formed the basis for rocket technology developed after 1945.

Even before he had submitted his dissertation Meshchersky had shown that he had another major interest in his life which was in teaching. He published The teaching of mechanics in certain institutions of higher education in Italy, France, Switzerland and Germany in 1895. This played a major role in raising the standards of the teaching of mechainis in Russia. The St Petersburg Polytechnic Institute was being set up at this time and Meshchersky played a major role in developing the curriculum. He was appointed as Head of Applied Mathematics at the Polytechnic Institute in 1902.

The course which Meshchersky developed in mechanics became famous and in 1914 he published a textbook on the topic A collection of problems of mechanics. This famous book had reached its 26th Russian edition by 1960 and it was this 26th edition which was translated into English and adapted to British units by R Romicki. This was published by Pergamon Press of the Macmillan Company of New York in 1965. The text has three parts: Statics of rigid bodies, Kinematics, and Dynamics.


Article by: J J O'Connor and E F Robertson

Click on this link to see a list of the Glossary entries for this page
---
List of References (3 books/articles)
Mathematicians born in the same country
Honours awarded to Ivan Vsevolodovich Meshchersky
(Click the link below for those honoured in this way)


---
Other Web sites