Catherine Cassels Steele
---
Born:
17 September 1903 in West Calder, West Lothian, Scotland


Died:

3 December 1995 in Lacy, Washington, USA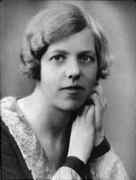 Click the picture above
to see a larger version
---
Catherine Steele's father James Steele was the headmaster of the school in St Monance on the south coast of Fife.

Catherine Steele began her primary schooling at West Calder at the age of five. In 1911 she moved to St Monance in Fife where she continued her primary education. In 1915, at age 12, she began her secondary education at Waid Academy in Anstruther, Fife. She entered the University of St Andrews in 1920. After graduating M.A. with First Class Honours in Mathematics and Natural Philosophy from the University of St Andrews in 1924 she continued to study at St Andrews for a B.Sc. graduating with Special Distinction in Chemistry, Physics and Mathematics in 1925. She joined the

Edinburgh Mathematical Society

in June 1925. Despite her continued interest in mathematics, she had decided to undertake research in chemistry for her doctorate and after submitting her thesis she was awarded a Ph.D. in 1928.

Steele was awarded a Commonwealth Fellowship to allow her to travel to the United States to continue with her research in chemistry. She sailed to the United States on board S. S. Scythia, leaving Liverpool on 30 August 1928 and arriving in New York on 8 September. She was based at the University of Illinois for two years and then for a year at Harvard where she lived in Edmund's Hall. During her time in the United States she met Louis Hamilton Bock whom she later married. After three years in the United States, Steele returned to Britain, taking up a post at the Horticultural College, Swanley, Kent.

In 1934 Steele married Louis Bock. Their wedding was reported in The Scotsman in the following terms:-


STUDENT'S ROMANCE IN U.S.
St Andrews Graduate Married in University Chapel

The wedding took place in St Andrews University Chapel yesterday

(23

May

1934)

of Dr Catherine Cassels Steele, eldest daughter of Mr James Steele,

4

James's Grove, Kirkcaldy and of the late Mrs Steele, and Mr Louis Hamilton Bock Ph.D., of Bristol, Pennsylvania, U.S.A., who travelled over

3000

miles for the occasion. Dr Steele a Ph.D. of St Andrews, met Dr Bock while she was in America lecturing and doing chemistry research work under the Commonwealth Fellowship. Since returning from America she has been lecturing at the Horticultural College, Swanley, Kent. Her father was formerly headmaster of St Monance School

.

There was a large attendance of students at the wedding. The ceremony was performed by the Rev. John Begg, Skelmorlie, Ayrshire, and Mr Robert B D Steele, a student, acted as groomsman. The bridesmaids were Misses Effie and Maisie Steele, sisters of the bride. The bride wore a gown of parchment satin over pink, her filmy veil of bridal tulle being held in place by a Juliet cap of orange blossoms. She carried a bouquet of pale pink roses. The bridesmaids wore dresses of lemon lace and net, with green hats, and carried Victorian posies of sweet peas

.

Further announcements in The Scotsman reported the birth of two sons:

At Philadelphia, USA, on 20 October 1939, to Dr and Mrs L H Bock (Catherine C Steele), 127 Tyson Avenue, Glenside, Pennsylvania, a son.

In USA on 27 February 1942, to Dr and Mrs Louis Bock (Catherine C Steele), Boyd Road, Huntington Valley, Pennsylvania, a son.
In 1935, back in the United States, she became ill and had a thyroid operation at the Mayo Clinic in Rochester, Minnesota.


Article by: J J O'Connor and E F Robertson
---
A Reference (One book/article)
Mathematicians born in the same country