Cochleoid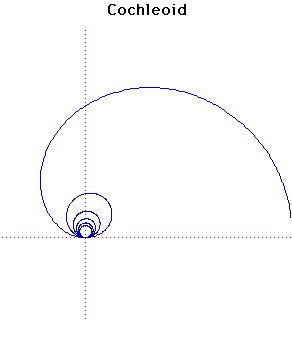 Polar equation:
r = a sin(θ)/θ
Click below to see one of the Associated curves.
---
Click THIS LINK to experiment interactively with this curve and its associated curves.
---

The name means the snail-form curve. It was discussed by J Peck in 1700. The form given here is due to a Belgium Joseph Neuberg. The name originated in 1884 with writers Benthan and Falkenburg.

The points of contact of parallel tangents to the cochleoid lie on a strophoid.
---
---
JOC/EFR/BS January 1997

The URL of this page is:
http://www-history.mcs.st-andrews.ac.uk/Curves/Cochleoid.html