Freeth's Nephroid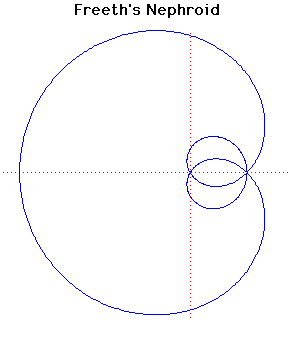 Polar equation:
r = a(1 + 2sin(θ/2))
Click below to see one of the Associated curves.
---
Click THIS LINK to experiment interactively with this curve and its associated curves.
---

This is a strophoid of a circle with the pole O at the centre of the circle and the fixed point P on the circumference of the circle.

In the picture above, O is the origin and P is the node where the curve crosses itself three times.

If the line through P parallel to the y-axis cuts the nephroid at A then angle AOP is 3π/7. This can be used to construct a regular 7 sided figure.

T J Freeth (1819-1904) was an English mathematician. In a paper published by the London Mathematical Society in 1879 he described various strophoids, including the strophoid of a trisectrix.
---
---
JOC/EFR/BS January 1997

The URL of this page is:
http://www-history.mcs.st-andrews.ac.uk/Curves/Freeths.html