Plateau Curves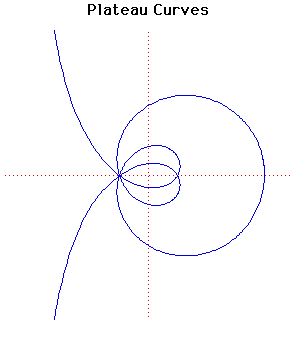 Parametric Cartesian equation:
x = a sin(m + n)t/sin(m - n)t, y = 2a sin(mt)sin(nt)/sin(m - n)t
Click below to see one of the Associated curves.
---
Click THIS LINK to experiment interactively with this curve and its associated curves.
---

This curve was studied by the Belgium physicist and mathematician Joseph Plateau.

If m = 2n the Plateau curves become a circle, centre (1, 0) and radius 2.

The particular curves drawn above are with the parameters m = 5, n = 3.
---
---
JOC/EFR/BS January 1997

The URL of this page is:
http://www-history.mcs.st-andrews.ac.uk/Curves/Plateau.html