Jessie Chrystal MacMillan
---
Quick Info
Born
13 June 1872
Edinburgh, Scotland
Died
21 September 1937
Edinburgh, Scotland
---
Summary
Chrystal Macmillan was the first female science graduate at Edinburgh University and the first female honours graduate in Mathematics. She became active in the Women's Suffrage Movement and went on to become a lawyer.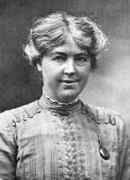 View three larger pictures
---
Biography
Chrystal Macmillan's parents were John Macmillan and Jessie Chrystal Finlayson. She was one of a family of nine children, having eight brothers. Her parents sent her as a boarder to St Leonard's School in St Andrews, a fairly new school at this time as it had been founded in

1877

. Macmillan then returned to Edinburgh and began her studies at Edinburgh University first matriculating in October

1892

. Before matriculating she had passed the Preliminary Examination in English, Mathematics, French, Dynamics and Science. She was one of the first women to be admitted to a university course in Scotland, since it was in

1892

that women were admitted for the first time. However, she would not be one of the first to graduate since other women had already studied university level courses and were able to graduate with an M.A. in

1893

.

Macmillan studied Mathematics with Chrystal and Natural Philosophy with Tait in session

1892

-

93

. In session

1893

-

94

she took Chemistry and Practical Chemistry with Drinkwater in the School of Medicine, Intermediate Honours Mathematics with Chrystal and Intermediate Honours Natural Philosophy with Knott. In the following academic year

1894

-

95

she studied Advanced Honours Mathematics with Chrystal, Astronomy and Practical Astronomy with Copeland, then in

1895

-

96

Advanced Natural Philosophy with Tait. She was awarded a B.Sc. in April

1896

becoming the first woman graduate with a degree in science from Edinburgh.

After studying at the University of Berlin over the summer of

1896

, Macmillan returned to Edinburgh and matriculated in the Faculty of Arts in October

1896

after passing the Preliminary Examination in Greek. She then took courses on Moral Philosophy and Mental Philosophy in session

1896

-

97

, Political Economy and Greek in session

1897

-

98

, Moral Philosophy in

1898

-

99

, and Mental Philosophy in session

1899

-

1900

. Having already taken the Honours courses in Mathematics and Natural Philosophy in

1894

-

95

and

1895

-

96

respectively, she graduated in April

1900

with Second Class Honours in Moral Philosophy and Logic as well as First Class Honours in Mathematics and Natural Philosophy. In this she scored another first, becoming the first woman to graduate from Edinburgh with First Class Honours in Mathematics and Natural Philosophy. In addition to her academic studies, while at university she had played a major role in the Women's Debating Society, an activity which was to stand them in good stead.

After graduating Macmillan worked for the Scottish Federation of Women's Suffrage Societies, campaigning for women's rights to vote. At this time the Scottish Universities

(

St Andrews, Aberdeen, Glasgow and Edinburgh

)

elected four MPs to Parliament. Members of the General Councils of these universities formed the electorate, all 'persons' on the Councils having the right to vote. The word 'person' was used throughout the statutes. The General Councils consisted of the graduates of the four universities, and now Macmillan and many other women were graduates. However, women were denied the right to vote for the first general election in which the university seat of Edinburgh and St Andrews was contested in February

1906

. She, along with other women, argued that women graduates were 'persons' and therefore allowed to vote in electing the university MPs. As honorary secretary of the Women Graduates of the Scottish Universities

(

Parliamentary Franchise

)

Committee, Macmillan brought a court action in

1906

to argue that women graduates had the right to vote as 'persons' on the General Councils. The case was lost, and their appeal was dismissed. In

1908

the case was brought before the House of Lords, the final arbiter in legal matters. Macmillan became the first woman to plead before the House of Lords

[

2

]

:-
Late in that day the case was opened by Miss Macmillan, who spoke for three-quarters of an hour. It was inevitable that the Press should refer to her as a modern Portia. The Glasgow Herald reporter added that she wore an appropriate costume with a fur necklet and a wide-brimmed hat to match her dress; that she was a little nervous at the start but warmed to the subject and that she argued law in an admirable speaking voice. Two days later the hearing was resumed and Miss Macmillan, dressed this time in a dark red costume and hat, with ermine furs, spoke for three hours with complete self-possession and great skill in exposition.
The case was rejected and Macmillan moved to London to carry on the fight for women's rights to vote. She was elected to the executive of the National Union of Women's Suffrage Societies, and also played a major role as Secretary of the International Woman Suffrage Alliance from

1913

to

1920

. When war broke out in

1914

Macmillan, who strongly opposed the war, resigned from the National Union of Women's Suffrage Societies because of the position it took. Her opposition to the war took a very practical form. She was on the first boat to cross the North Sea taking a food convoy to Flushing after the fall of Antwerp. She then proposed a Women's Congress in The Hague to:-
... discuss the principles on which peace should be made and, if so agreed, to act internationally.
The conference was held in April

1915

, with Macmillan one of only three British women able to attend since the North Sea was by that time closed. She was elected a member of the delegation from that Congress to present proposals to heads of neutral states for halting World War I. She then went to the United States to assist the those opposing America's entry into the war. After the war ended in

1918

, Macmillan was a delegate at the International Congress of Women in Zürich in May

1919

which issued a strong condemnation of the harsh terms imposed on Germany by the Treaty of Versailles. She presented these views to the

1919

Paris Peace Conference but, as had happened so often in her life, again her views were ignored. Looking back on these events with the benefit of hindsight, we can now say that Macmillan's views have been shown to have been right.

By this time women aged

30

or over had been given the right to vote by the Representation of the People Act which was passed by the House of Commons in June

1917

and by the House of Lords in February

1918

. Macmillan was now able to join the legal profession, which had been opened to women, and felt that from this position she would be better able to advance the causes in which she believed. Macmillan entered the Middle Temple, and was called to the bar on

28

January

1924

[

3

]

:-
She was the right kind of lawyer, one who held that Law should be synonymous with Justice ... Her chief aim in life - one might call it her passion - was to give every woman of every class and nation the essential protection of justice. She was, herself, a great and very just human being ... She could not budge an inch on matters of principle but she never lost her temper and never bore a grudge in defeat.
Macmillan joined the Edinburgh Mathematical Society in May

1897

when she was reading for her M.A. at Edinburgh. She was the second woman member of the Society, joining a few months before Charlotte Scott who was the third woman member. The first woman member was Flora Philip who joined in

1886

. Macmillan remained a member of the Society until

1915

.

Macmillan received much recognition for her achievements. A fund was set up at Livingston House, Broadway, London, to provide an annual Chrystal Macmillan Prize for women students of Law and to support the societies with whose work she was particularly associated. A Millennial plaque is at Kings Buildings

(

West Mains Road

)

, in Edinburgh. It reads:

In honour of
JESSIE CHRYSTAL MACMILLAN


1872

-

1937


Suffragist, founder of Women's International League for Peace and Freedom,
first woman science graduate of the University

(1896)

.


The University of Edinburgh has also named a building in her honour. The following statement was issued by the School of Social and Political Studies:-
The School of Social and Political Studies wishes to name its newly refurbished building after Chrystal Macmillan as key aspects of her life and work relate to matters of central concern to the School including gender, international politics, human rights, personhood and social identity. The Millennial Plaque at King's Buildings erected in her honour uses her full name, Jessie Chrystal Macmillan but throughout her professional life she was invariably known as Chrystal Macmillan and the School wishes to name its refurbished building 'The Chrystal Macmillan Building'.
Her death is described in

[

1

]

:-
In June

1937

Chrystal Macmillan had to have a leg amputated. She died from heart disease at

8

Chalmers Crescent, Edinburgh, on

21

September

1937

, and was cremated on

23

September in Edinburgh. In her will she left bequests to the Open Door International for the Economic Emancipation of the Woman Worker, and to the Association for Moral and Social Hygiene. A memorial prize is awarded annually in her name by the society of the Middle Temple to the highest placed woman student in the bar's final examinations.
---
---
Biography by S Oldfield, in Dictionary of National Biography

(

Oxford,

2004)

. See THIS LINK.
W N Boog Watson, The First Eight Ladies, University of Edinburgh Journal

23

(1967

-

1968)

,

227

-

234

.
C Hamilton, Chrystal Macmillan, Time and Tide

(16

October

1937)

.
Obituary: Jessie Chrystal Macmillan, University of Edinburgh Journal

9

(1937

-

1938)

.
Jessie Chrystal Macmillan, Graduates in Science up to

1899

(

University of Edinburgh

)

.
Jessie Chrystal Macmillan, Graduates in Arts

1898

-

1900

(

University of Edinburgh

)

.
---
Additional Resources (show)
Other websites about Chrystal Macmillan:
---
Written by
J J O'Connor and E F Robertson
Last Update January 2008