James Stuart in Vanity Fair
---
The following appeared on
5
October
1899
in Vanity Fair:
Dr James Stuart, M.P.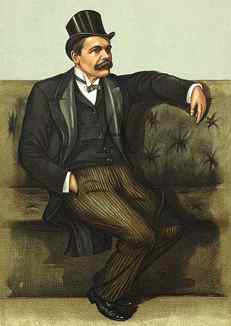 He became a Fifeshire Scotchman six-and-fifty years ago; and having been doubly educated
(
at St. Andrews University and at Trinity, Cambridge
)
he fashioned himself into a Professor of Mechanics and Applied Mechanics. Then he tried to become Member for Cambridge University; but Cambridge University refusing the honour, he went to Hackney, which place he represented for precisely one year. Since then he has sat for the Hoxton Division of Shoreditch, while he lives in Grosvenor Road.
He neither shoots nor fishes, and he seldom takes a holiday; but he yachts, he cycles, he plays golf, and he sketches. He has also dabbled in journalism, being Chairman of the Board of The Star and Morning Leader Newspaper and Publishing Company, Limited. He is also the husband of the eldest daughter of Jeremiah James Colman: wherefore The Pall Mall Gazette once accused him of introducing mustard into The Star. He has done much to develop the pernicious system of University Extension; and his friends say that the most wonderful thing about him is how little he has been understood by the public. He is many-sided and too enthusiastic. He champions Women's Suffrage because, being a student of Exact Science, he cannot understand Woman. He has, indeed, championed more than one unpopular movement; though he is said to have more intimate knowledge of London political and social questions than anyone else. But he is a wicked Radical, whom the Water Companies hate, although he has friends among the Tories. He is a most tireless person of extraordinary physique, who can go all day without food; and though he can dine, he generally eats.
Although he is a Professor he is neither a prude nor a pedant; and if it were not for his pernicious Politics he would be a good fellow.
---