Johan de Witt - The first calculation on the valuation of life annuities
Livia Daxenberger
Johan de Witt
---
---
Johan
(
also Jan
)
de Witt was born on September
25
,
1625
, as son to lumber merchant Jacob de Witt and wife Anna van den Corput in the city of Dordrecht. His family was associated with the "staatsgezinden", and his father gave up business to become councillor and tax collector of Dordrecht in
1633
(
Kupers,
2014)
. De Witt received his first education at the Latin school in Dordrecht, whereafter he studied law at the prestigious university of Leiden. At Leiden, he lived in the house of Frans van Schooten Sr., a mathematician and lecturer at the university. He taught De Witt in mathematics alongside Johannes Hudde, Christiaan Huygens and his son Frans van Schooten Jr., who were to become the country's most influential mathematicians of the time
(
Kupers,
2014)
. Upon finishing his law degree, de Witt went on a journey through Europe with his brother Cornelis, after which he settled as an attorney in The Hague. In
1655
, he married Wendela Bicker, daughter to a republican merchant and ship builder. Importantly, this connection made Cornelis de Graeff his uncle-in-law, who was the mayor of Amsterdam and had made de Witt Grand Pensionary of Holland in
1653
, at an age of
28
only. This position was appointed during a stadtholderless period after the death of Willem II, which made the role of Grand Pensionary paramount and de Witt the most important politician of his time. He took the role during the first Anglo-Dutch war which had started a year before in
1652
, and which ended in a slight English victory in
1654
(
Hup,
2011)
. During negotiations for the "Peace of Westminster", de Witt negotiated a secret addendum, which did not allow the son of Willem II to become stadtholder, further weakening the Orangian power
(
Wielenga,
2015)
. De Witt later succeeded in completely extinguishing the position of stadtholder after a major victory over plague-ridden England in the Second Anglo-Dutch War
(1665
-
67)
, solidifying the rule of the staatsgezinden
(
Hup,
2011)
.
Financially, de Witt embarked to reorder the state's finances after he took office. The first war with England had expanded the general debt substantially, and de Witt identified the interest payments on the debt as a substantial financial burden (Tracy, 1985). In addition, several investors had demanded the government to pay back their principal during the war, which exemplified the risk in redeemable debt instruments for the state (Fritschy, 2003). These were two of the reasons why de Witt set out to concentrate financial instruments on comparatively risk-free annuities. He also tried to reduce debt by proposing an interest rate cut from 5% to 4% and transforming some bonds into redeemable annuities (Hup, 2011). This measure reduced Holland's provincial debt by 20 million guilders to 120 million guilders between 1655 and 1663, whereafter the Second Anglo-Dutch war reversed the trend again (Rowen, 1986). Overall, de Witt managed to reduce bond interest payments of 7,000,000 florins by two-thirds, and tried to lower the absolute debt burden by spending interest savings on debt reduction (Kopf, 1027). The second war with England, and a new war looming in the years after, overturned some efforts since more funds for military strengthening were necessary. By 1670, extracts from state meetings show that the main concerns regarded raising a sum of 7 million guilders to support war efforts, which amounts to half the yearly tax revenue of Holland (Kupers, 2014). There were suggestions of tax raises and taking loans of varying length, but by April 1671 the notes only show debates over an appropriate amount and pricing through annuities (Stamhuis, 1999). On July 30, 1671, de Witt presented a treatise to the National Assembly that mathematically substantiated his argument that life annuities were overpriced (Kopf, 1927). In the "Waerdye van lyf-renten naer proportie van los-renten" - 'The Worth of Life Annuities Compared to Redemption Bonds' - he calculated that an annuity paying 1 guilder per year should be sold at a value of 16 guilders, or be issued at a rate of 6.25% instead of the common 7.14% (Stamhuis, 1999). At the time, annuities were sold for 12 guilders, and an increase to 14 guilders had been proposed by the Assembly (Kupers, 2014). Even though his calculations were showing that the state was likely losing money with annuities issued at the appointed price, the Assembly was hesitant to raise the price of an anyway unpopular financial instrument by an amount that high. When new annuities were issued in Oktober 1671, they were priced at 14 guilders (Stamhuis, 1999). The treatise - which presents de Witt's second most important mathematical contribution after a publication in 1659 on properties of quadratic forms, "Elementa Curvarum Linearum" - will be treated in more detail in the next section.
Political turmoil caught up with the Seven Provinces in 1672 - called the Rampjaar or "year of disaster" - when England, France, and the bishops of Munster and Cologne simultaneously attacked and quickly defeated the Dutch army (Hup, 2011). Revived internal conflicts forced de Witt to resign in August as raadspensionaris. On August 20, a pro-Orangist mob lynched de Witt and his brother Cornelis and mutilated their bodies (Ciecka, 2008). A painting by Jan de Baen in the Rijksmuseum in Amsterdam reminds of the gruesome scene that marked the end of the mathematicus, great politician and defining leader that Johan de Witt had been.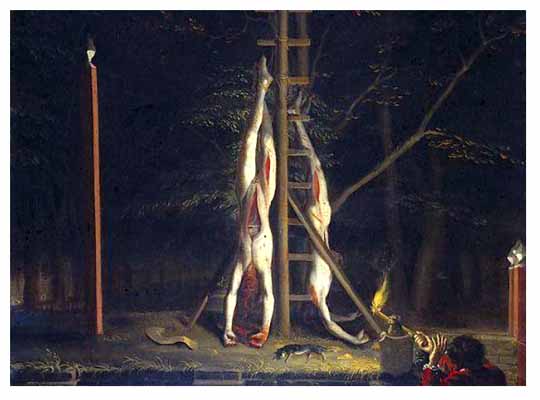 ---