---
Quick Info
Born
Died
22 January 1936
Chittoor, India
---
Summary
Ramaswami Aiyar was an enthusiastic amateur mathematician who worked as a civil servant in India. He was a founder of the Indian Mathematical Society.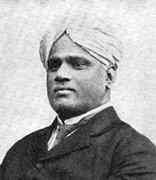 View two larger pictures
---
Biography
V Ramaswami Aiyar's name is sometimes given as Iyer and sometimes as Aiyyar. We, however, will refer to him as Ramaswami throughout this biography. His paternal grandfather, S Ramaswami Aiyar, had the degree of B.A. and became a District Collector of Coimbatore. His name appears as the Third Class District Registrar of Coimbatore in

1890

. He was said to be noted for his piety and generosity and commanded great respect

(

see

[

4

]

)

. Ramaswami Aiyar's father died in

1872

, when his young son was only around six months old. Ramaswami Aiyar was bought up by one of his uncles, R Ramachandra Aiyar, who was an Executive Magistrate. His early thirst for knowledge is illustrated in

[

4

]

:-
When he was four years old, he was missing from the house one day, and after an anxious search, he was traced to a neighbouring pial school, with a broken chip of slate.
The pial schools, or tinnai schools, were places where the children were taught to repeat verses without understanding their meaning and pupils learnt little except how to read and write. Naranienger continues

[

4

]

:-
This is how his informal schooling began and shows his thirst for learning at that early age of four. From his school days, his habit of deep concentration was characteristic of him. He was often found pouring over his books, while his companions were engaged in play and amusing themselves. Throughout his scholastic career, he was the 'top boy' in his class and carried away the First Prize, from the First Standard right up to the F.A.
The F.A. was the final high school qualification. Ramaswami then began studying at Coimbatore college where he was taught mathematics by R Krishna Aiyar, another of his uncles. Krishna Aiyar had been the first graduate of Coimbatore college in

1870

and then became a mathematics lecturer there

[

4

]

:-
The neatness and elegance with which V Ramaswami solved problems set in the class evoked his uncle's admiration.
Ramaswami then studied at Presidency College, Madras, graduating in

1890

with a B.A. Although he wanted to continue his education at this point, because of the poor financial circumstances of his family, he had to accept a poorly paid position as clerk in the Collectorate of the Indian Administrative Service. His talents were recognised by G H Stuart, the Director of Public Instruction in Madras. Stuart had been Fifth Wrangler in the Mathematical tripos at Cambridge in

1874

and second Smith's Prizeman. Stuart was able to get a scholarship for Ramaswami to undertake graduate studies at Presidency College, Madras, and the young man was delighted to give up his position as clerk

[

4

]

:-
While undergoing the graduate course at the Presidency College, his contributions to the Educational Times and other Mathematical journals, which were remarkable for their originality and elegance, attracted the attention of his Professors. The Editor of the Educational Times addressed him as "Professor Ramaswami", judging from his contributions that he should be a College Professor. This title of 'Professor' stuck to him ever afterwards.
In

1893

Ramaswami was awarded a Master's Degree and in August

1894

he sat the Mysore Civil Service Examination along with his friend C Hanumantha Rao, also a graduate of Presidency College, Madras. Both failed to be ranked highly enough to gain a place. Soon after he was contacted by the Inspector-General of Education in Mysore, Hormusji J Bhabha, who had M.A. and D.Litt. degrees from England. Bhabha explained to Ramaswami that Venkataswami Nayudu, the Professor of Mathematics at Central College, Bangalore, had taken ill and asked Ramaswami to take over Nayudu's responsibilities while he was on sick leave.

Now Mandyam Tondanur Naraniengar 

(1871

-

1940)

was one of Ramaswami's mathematics colleagues at Central College, Bangalore. Naraniengar was interested in geometry and he would later publish many papers, the first three in

1908

being The intrinsic properties of curves, in the Proceedings of the Edinburgh Mathematical Society, and Notes on spherical coordinate geometry, and The nine-point circle, both by the Indian Mathematical Society. Ramaswami said in his

1926

presidential address Genesis and History of Founding of the Society - Mathematical Reminiscences of the founding father himself to the Indian Mathematical Society

[

6

]

:-
M T Naraniengar and I became intimate friends. We were both deeply interested in Mathematics and in a modest way Geometry was our forte and curves our fancy; we discussed nothing but mathematics. Rouse Ball's 'Mathematical Recreations and Essays' had recently come out 

[

it was published in 

1892]

 and contained a lot to interest us. After Mr Venkataswami Naidu rejoined duty, I continued to remain in Bangalore, meeting Mr M T Naraniengar frequently. We had a special affinity as both of us were old boys of the Cambridge College.
Ramaswami was appointed to Maharaja's College, Mysore, as a Lecturer in Mathematics when mathematics classes leading to a B.A. started there in

1895

. His professor was John Weir who was also the Principal of Maharaja's College. Weir had been awarded an M.A. by the University of Glasgow, Scotland, in

1882

and, after being an assistant to William Jack at the University of Glasgow

(1887

-

1890)

, had moved to India. Weir suggested that Ramaswami should become a member of the Edinburgh Mathematical Society and arranged for his name to be proposed. Ramaswami became a member of the Edinburgh Mathematical Society in December

1895

. He said

[

6

]

:-
The proceedings of the Society, which I received, gave me my first glimmer of hope that a Mathematical Society like the Edinburgh one could, perhaps, be formed in India.
His time at Maharaja's College was, however, short, since he sat the Madras Civil Service Examination in

1895

and this time was successful. By the time he joined the Edinburgh Mathematical Society he was a Probationary Deputy Collector in Trichinopoly, India. After six years of probation, he became a Deputy Collector in

1901

. He remained in that post for the rest of his career, gaining various promotions along the way. For example the Register of the East India Company shows him as a Deputy Collector

4

th Grade in

1915

and a Deputy Collector

3

rd Grade in

1920

. After he retired in

1930

he moved to Chittoor, India. His interest in mathematics always seemed to dominate his life

[

4

]

:-
Throughout his official life as Deputy Collector, his interest in mathematics never flagged. Stories are there of his absent mindedness while in the midst of trials of Criminal cases, as a magistrate. It appears that he would often be found lost in tackling the solution of a mathematical problem, completely forgetting the case before him, and after a time, as if awaking from a dream, would ask the Pleader to start his arguments afresh. This absent mindedness, or abstraction, was a habit with him even in his domestic life. When at dinner in the company of friends and relatives, he was often discovered lost in thought; he would abruptly get up without finishing his dinner, and would go to the table to note down a solution of a problem which had been engaging his attention all the time.
Ramaswami published his first mathematics paper in

1897

, namely A general theorem on the nine-points circle, which was published in the Proceedings of the Edinburgh Mathematical Society. In the paper he proved the following theorem:-
If any conic be inscribed in a given triangle and a confocal to it pass through the circumcentre, then the circle through the intersection of these two confocals touches the nine-points circle of the triangle.
In the same year he published Extension of Euclid I.

47

to n-Sided Regular Polygons in the Mathematical Gazette.

These were Ramaswami only mathematical publication until

1906

when he began publishing a number of articles. For example: Note on the Power Inequality

(1906)

; Note on a point in the demonstration of the Binomial Theorem

(1906)

; On the exponential inequalities and the exponential function

(1907)

; On the arithmetic and geometric means inequality

(1907)

; The A, B, C of the higher analysis

(1907)

; Note on the circumscribable quadrilateral

(1908)

; On Stolz and Gmeiner's Proof of the Sine and Cosine Series

(1908)

; Some centroid problems

(1909)

; On the trisection of an angle by means of a parabola

(1909)

; Trigonometric inequalities

(1910)

; On Steiner's tricusp

(1911)

; Normals to an ellipse from any given point

(1911)

; Some metrical relations connected with a pair of isogonal conjugates

(1911)

; and The orthopolar theory

(1912)

.

After this

1912

paper there is a gap of over ten years before he published again, this being Miquel Theorems in

1923

. It is interesting that around

1906

he must have been corresponding with G H Hardy for in his paper A note on the continuity or discontinuity of a function by an infinite product

(1908)

Hardy writes:-
The question stated above was, if I remember rightly, first suggested to me personally by Prof V Ramaswami Aiyar of Gooty, India, in a letter which I received from him a year of two ago.
Ramaswami is particularly famous for two important things in his mathematical career, namely founding the Indian Mathematical Society and the 'discovery' of Ramanujan. First let us quote from his

1926

presidential address Genesis and History of Founding of the Society - Mathematical Reminiscences of the founding father himself to the Indian Mathematical Society. In

1906

[

6

]

:-
... there was a feeling in India that it was the time of large awakening. There was considerable political agitation then, owing to the partition of Bengal. But men also saw that, before India could become great, we needed advancement in many different directions. Our great countryman, Sir J N Tata, had these problems in mind and laid the foundation of a considerable industrial and intellectual advancement. But his great scheme of a Central Research Institute for India made no provision for mathematical advancement. One day I put to myself the question "Can I not be of some help in advancing the interests of Mathematics in India?" The spirit of the times made me think seriously about the question. I wanted to form a Mathematical Society which might be something like the Edinburgh Mathematical Society. I obtained the Calendars of the Madras and the Bombay Universities and made a list of all men who had taken the M.A. degree, or a first class in B.A., or doing work as Professors and Assistant Professors in various colleges. The list was very encouraging. ... On perusal of the long list, it occurred to me that, if by some magic, I could only put all these names into a Society, then with Euclid, I might say, Q.E.F. 

(

quod erat faciendum, what is required is now done

)

. But I did not see my way for this magic. I was a Deputy Collector and not a Professor of a College who his fellow mathematicians would know. I sometimes thought that, if I were the great Asutosh Mukherji of Bengal, I could make a trumpet call, bringing all the mathematicians together at once. But I was unknown; and any call by me, I felt, would fall flat on the public ear. So, I was in a state of hesitation as to the action I should take.

In that year I saw a copy of the 'Quarterly Journal of Mathematics', sent to me by a friend. The matter which it contained was mostly beyond me but there was a little bit that delighted me. And I began to wonder how many such delightful bits, we in India, may be missing by not seeing the leading journals. This made me more eager than ever to try to form a Mathematical Society. At length came the Christmas Day of December 

1906

. I was put up in the village Chavidi, in Gooty Division, Anantpur District. Thinking calmly, I felt that God will prosper any earnest endeavour made in a selfless cause. I was able to see my plan clearly and I wrote a little letter asking friends to join and form a small Mathematical Society. The letter was simply conceived and had no ambitious programme. 

(

Published in vol. XI of the journal of the Society; it is reproduced at THIS LINK.

)

 I sent copies of the letter to one friend after another and I received an abundant response during three months. Then, on the 

4

th of April 

1907

, I was able to announce in the Madras dailies that the Society was formed, with a strength of 

20

 members, under the name "The Indian Mathematical Club," and I became one of its Joint Secretaries along with Mr Naraniengar and I continued so until 

1910

.
A very good choice was made for the headquarters of the new Society, namely Fergusson College, Poona near Bombay. This made the Society seem to be India wide and this was also chosen since in the early days the Society mainly circulated books and journals among it members and Bombay was the postal centre for India. The Principal of Fergusson College agreed to act as the librarian for the Society

[

3

]

:-
Poona itself was an auspicious choice - as the Society acknowledged in honouring the efforts of Ramaswami Aiyar in founding the Society: 'It may not be out of place to mention that with the true scholar's freedom from provincial bias, you, a Madrasi, arranged to locate the Headquarters of the Society at Poona, in the Bombay Presidency - a step which gave our Society the unique position of being an All-India.
Ramaswami served as President of the Indian Mathematical Society in

1926

-

30

.

Let us now look at Ramaswami's role in the discovery of Srinivasa Ramanujan which is described in

[

4

]

:-
When Ramaswami Aiyar was Deputy Collector in Tirtukkoilur in

1910

, Ramanujan sought his patronage and asked to be appointed as a clerk in his office. Ramanujan's only recommendation was his 'Ponderous' Note-book, which has now become famous and is preserved in the Madras University Library. It was little known at that time that the notebook contained anything of value. On pursuing the contents of the Note-Book, Ramaswami Aiyar was struck by the extraordinary results recorded therein, and declining to smother his genius by an appointment in his department, recommended him to his mathematical friends in Madras holding high positions. The story is well-known how eventually Ramanujan was made a Research Student of the Madras University, was deputed to the Cambridge University and achieved distinction as the Greatest Indian Mathematician.
In

[

6

]

Ramaswami explained that Ramanujan stayed with him for three days, giving him an opportunity to examine:-
... those remarkable notebooks in which he had recorded the numerous results of his discoveries. There was little or no explanation given but the results were of a very striking character. I put to him some test questions in order to find out if his methods were really based on sound principles. ...

[

Ramanujan

]

said he was badly in need of employment and suggested that I might put him as a teacher in one of the elementary Schools belonging to the Taluk Board of which I was President. I told Ramanujan that it would be sacrilege on his talents to put him to teach in an Elementary Board School but that I had been thinking out if I could not be of help to him in a real manner.
The last events of Ramaswami's life are described in

[

4

]

:-
He attended all the Conferences of the Indian Mathematical Society except one, and actively participated in their deliberations. His last trip to Delhi, in spite of the advice of friends to the contrary, in connection with the Conference held there, proved too tiring for him perhaps. Though he was seemingly all right, he took ill all of a sudden on the

20

th January

1936

. Cerebral haemorrhage followed and he expired on the

22

nd January

1936

at

3

.

30

pm, in spite of the best medical treatment, at Chittoor.


Ramaswami himself gave autobiographical information in his

1926

presidential address Genesis and History of Founding of the Society - Mathematical Reminiscences of the founding father himself to the Indian Mathematical Society which we have quoted from above; for a fuller version see THIS LINK.

---
---
An Indian Mathematical Society, The Mathematical Gazette 

4

 

(65)

(1907)

,

106

-

107

.
B C Berndt, The Chief Accountant and Mathematical Friend of Ramanujan - S Narayana Aiyar, Amer. Math. Monthly

118

(9)

(2011)

,

767

-

776

.
J W Dauben and R Parikh, Beginnings of modern mathematics in India, Current Science

99

(3)

(2010)

,

15

-

37

.
M T Naranienger, V Ramaswami Aiyar

(4

August

1871

-

22

January

1936)

: The Founder of IMS, Math. Student 

39

 

(1971)

, i-iv.
http://www.indianmathsociety.org.in/vramaswami.htm
S R Ranganathan, Obituary. Mr V Ramaswami Aiyar, M.A.

(1871

-

1936)

, Current Science 

(

February

1936)

,

583

.
V Ramaswami Aiya, Genesis and History of Founding of the Society - Mathematical Reminiscences of the founding father himself, The Mathematics Student 

80

 

(1

-

4)

 

(2011)

, 

239

-

263

.
---
Additional Resources (show)
Other pages about V Ramaswami Aiyar:
Other websites about V Ramaswami Aiyar:
---
Honours awarded to V Ramaswami Aiyar
---
---
Written by
J J O'Connor and E F Robertson
Last Update July 2020