---
Quick Info
Born
13 May 1926
Nuremberg, Bayern, Germany
Died
8 February 1998
Bourne End, Buckinghamshire, England
---
Summary
Franz Kahn was a mathematician and astrophysicist who was a professor at the University of Manchester. He was a world leading expert in theoretical studies of the dynamics of the interstellar medium.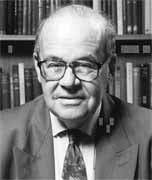 View one larger picture
---
Biography
Franz Daniel Kahn was the son of Siegfried Kahn

(1894

-

1967)

and Gretchen Mann

(1896

-

1980)

. Siegfried, who had served in the infantry in World War I, married Gretchen Mann on

20

January

1920

in Nuremberg; they had two children, Charlotte Kahn

(1921

-

1994)

and Franz Daniel Kahn, the subject of this biography. Siegfried Kahn joined Stephen Bing in setting up a toy company in

1928

in Nuremberg and he became the general manager and designer of a new range of toys. In

1930

they launched a range of construction toys under the name Trix and in

1932

Trix Ltd was formed in England to make Trix toys available in Britain. They launched an

00

scale model railway system called Trix Express in

1935

and by

1936

a British version was being produced. Siegfried Kahn was Jewish and after Hitler had come to power in

1933

his position, and that of the other Jewish members of the company in Nuremberg, looked increasingly uncertain given the anti-Semitic legislation.

Franz Kahn began his schooling in a Jewish school in Nuremberg in

1934

, moving to attend another Jewish school in the neighbouring town of Fürth. In

1938

the Nuremberg company was sold and Franz Kahn, his father, his mother, and elder sister Charlotte came to England. They set up home in London where Trix Ltd already had a branch. Franz began his studies at a preparatory school in Hampstead but, because of the war, was evacuated to Rickmansworth. The

1939

Register gives Siegfried Kahn and his wife living at

2

Highfield Court, Hendon, London with their daughter Charlotte, an assistant consulting optician, and two widowed women, Henny Kahn

(

born

1869

in Nuremberg

)

and Fanny Sara Linz

(

born

1871

in Hildesheim

)

. The

1939

Register also gives Franz D Kahn at school at

75

High Street, Rickmansworth, Hertfordshire. The outbreak of World War II meant that all German citizens living in Britain were assessed for internment. On

21

December

1939

Siegfried Kahn was considered. His record gives: Birth,

6

June

1894

in Nuremberg; Address,

2

Highfield Court, N.W.

11

, London; Occupation, Toy maker

(

Company director

)

; Employer, Trix Ltd,

45

Clerkenwell Road, E.C.

1

. London; Decision, Exempt from internment until further order.

After a short time at Rickmansworth, Kahn enrolled in the famous independent school of St Paul's which had been founded in

1509

. The school had been based in Hammersmith but in September

1939

it was evacuated to Easthampstead Park, near Crowthorne in Berkshire. It was boarding only after the evacuation which was organised by Walter Fraser Oakeshott, the headmaster, who was a classics scholar. Kahn became a boarder at the school in

1940

and, while at St Paul's, he won the form prize for English, a remarkable achievement for a boy who was a native German speaker and had only been in England for two years at the time. In

1944

he won an Open Scholarship to study mathematics at Queen's College, Oxford.

In

1947

Kahn graduated with First Class Honours in mathematics from the University of Oxford and remained at Queen's College undertaking research for his D.Phil. advised by Sydney Chapman. It was only one year before, in

1946

, that Sydney Chapman had accepted the offer of the Sedleian Chair of Natural Philosophy at the University of Oxford, also becoming a fellow of Queen's College at this time. Kahn was also influenced while undertaking research by Harry Hemley Plaskett

(1893

-

1980)

. Plaskett was Savilian Professor of Astronomy at the University of Oxford from

1932

to

1960

. He made major contributions to solar physics, astronomical spectroscopy and spectrophotometry. Kahn moved to Balliol College in

1948

when he became a Skynner senior student. This was a prestigious role filled by exceptional people from the first Skynner senior student at Balliol, Reginald Victor Jones

(1911

-

1997)

who held the Skynner award

1934

-

36

.

Kahn submitted his first paper, An Investigation into the Possibility of observing Streams of Corpuscles emitted by Solar Flares to the Royal Astronomical Society on

10

December

1948

. The Abstract reads:-
This paper discusses Chapman's suggestion that a stream of corpuscles, emitted from the Sun by a flare, should be spectroscopically detectable before and during the magnetic storm which it is thought to cause. After an investigation of the mode of expansion and the state of ionization of such a stream, it is estimated that the particles in it may cause abnormal absorption near the H and K lines of calcium which is detectable soon after the end of the flare. Should this absorption not be observable, however, the failure will not necessarily disprove the corpuscular theory of magnetic storms, as the depth of absorption may lie below the observational limit.
It has the following Acknowledgements:-
I wish to thank Professor S Chapman for suggesting this problem to me and for much helpful advice, and also Professor H H Plaskett and Dr M A Ellison, with both of whom I have had most instructive discussions bearing on this paper.
This first paper was published in

1949

and, in the following year, a second part was published. Kahn gives the following Acknowledgements:-
Thanks are due to Professor S Chapman and to Professor H H Plaskett for their encouragement and advice while this paper was being prepared. Some of the work was carried out during the tenure of a D.S.I.R. grant and of the Skynner Senior Studentship in Astronomy at Balliol College. The paper forms part of a thesis for which the degree of Doctor of Philosophy was awarded by the University of Oxford.
Also in

1950

he published On the Expulsion of Corpuscular Streams by Solar Flares. This paper has the abstract:-
A value is found for the minimum momentum density in a corpuscular stream which has been emitted from a flare and which causes a terrestrial magnetic storm. It is shown that radiation pressure alone will always be insufficient to expel such a stream from the Sun.
Kahn was awarded a D.Phil. from the University of Oxford in

1950

for his thesis Some problems concerning the luminosity and other properties of the upper atmosphere.

In

1949

Kahn was appointed as an Assistant lecturer in Mathematics at the University of Manchester. There he met the mathematics teacher Carla Vivienne Copeland

(1928

-

1981)

who had studied mathematics at Bedford College, London and, five days after they first met, they became engaged. Carla, born

25

December

1928

in Salford, Lancashire, was the daughter of Benjamin Copeland and Lily Goldstone. Franz Kahn married Carla Copeland in the Higher Broughton Synagogue, Salford, Lancashire, on

22

March

1951

; they had two sons and two daughters. One of his sons, Jeremy I Kahn

(

born

22

October

1954)

, is the author of

[

9

]

and

[

10

]

. The daughters are Judith N Kahn, born

26

February

1953

and Deborah Kahn, born on

10

December

1959

.

Manchester was certainly an excellent place for Kahn to get a job. Bernard Lovell

(1913

-

2012)

had been appointed to the University of Manchester as an assistant lecturer in physics in

1936

and, after undertaking war work during World War II, returned to Manchester as a lecturer in physics in

1945

. He set up equipment at Jodrell Bank and began working towards having a radio telescope. His reputation quickly grew and he was appointed a reader in

1949

and professor of radio astronomy in

1951

. To support this innovative astronomy development, the University of Manchester established a Department of Astronomy in

1951

and, following Lovell's advice, appointed Zdenek Kopal

(1914

-

1993)

as the Professor of Astronomy. Kahn joined the Department of Astronomy the year after it was established

[

5

]

:-
Already, Kahn had moved from the solar-system boundaries of his thesis work and had published papers on emission from radio stars

[

'Some possible mechanisms of radio stars'

]

and on the origin of interstellar dust

[

'On the formation of interstellar dust'

]

. It was a natural move for him to transfer to the infant Astronomy Department in

1952

, initially as a Turner and Newall Fellow
Kahn wrote Zdenek Kopal's obituary

[

8

]

where he described his professor's background:-
In many ways Kopal's life exemplified this century's upheavals, both in politics and in astronomy. He was born in the Austrian Empire, before the foundation of Czechoslovakia, and he was educated at Prague University, before modern astrophysics had taken hold. One of his teachers at Prague was the celebrated astronomer E Finlay Freundlich, who made it his life's work to verify the predictions of Einstein's General Relativity, notably the deflection of starlight by the sun. Kopal had the same attitude to scientific questions: take nothing for granted if you cannot verify it. This philosophy stood him in good stead.
The International Union of Theoretical and Applied Mechanics and the International Astronomical Union Symposium No

2

was Gas Dynamics of Cosmic Clouds held at Cambridge, England,

6

-

11

July,

1953

. Kahn presented two papers to the Proceedings of the Symposium, The heating and cooling of interstellar gas clouds, and The collision of two highly ionised clouds

[

5

]

:-
This meeting profoundly influenced his later work and in particular led to several major investigations into the dynamical effects in interstellar gas produced by the radiation fields of hot stars.
An important visit was to Leiden where he spent the academic year

1953

-

54

. Leiden was a leading institution with Jan Oort's astronomy group. While there Kahn wrote the paper The acceleration of interstellar clouds

(1954)

which became a classic

[

4

]

:-
In

1954

, Kahn produced one of contemporary astrophysics' classic papers, laying down the basic theory for the way in which stellar radiation sweeps across interstellar gas, heating it and setting it in motion. This paper is central to an understanding of star formation, the late stages of evolution of intermediate mass stars and phenomena in the nuclei of active galaxies. Recent Hubble photographs of regions of massive star formation, like the now famous Pillars of Creation in the Eagle Nebula, rely on the basic Kahn theory for their interpretation.
Here is one of several anecdotes relating to his time in Leiden

[

5

]

:-
There is an amusing anecdote regarding his stay there that he used to relate. Oort gave a seminar after which Kahn made some critical comments

(

this was probably in relation to Oort's championship of the so-called 'rocket-effect' acceleration of interstellar clouds, an effect that Kahn had shown not to work in the manner advocated by Oort

)

. Presumably in view of Oort's great standing, heads shook disapprovingly during Kahn's remarks, and the listener next to him explained, 'your criticism is like challenging the Almighty'. On leaving the seminar room, a small group, which included Kahn, went from the building and encountered a sudden weather change. There was a flash of lightning followed by a loud thunderclap. 'Well, I told you', said the Dutchman who had been sitting next to him.
In

1956

the German Society of Scientists and Physician offered a prize for the best essay on star formation. Kahn submitted his essay entitled The Formation of Stars through the Condensation of Diffuse Matter and was awarded the prestigious prize in

1958

. The essay demonstrated

[

11

]

:-
... his skill as a synthesiser of ideas matched his physical understanding and his analytical expertise.
Promotion saw Kahn made a Senior Lecturer in

1958

, a Reader in

1962

, and Professor of Astronomy in

1966

.

Kahn's son Jeremy gives some interesting details of his father's character in

[

9

]

:-
My father, Franz Daniel Kahn

(

FDK

)

was an astronomer. Or to be more precise, an astrophysicist. The equipment he needed for work consisted of a pad of paper, a slide rule, and a Bic

(

always

)

. When he was younger he worked all the time. He worked on Sundays, and when we were on holiday he'd spend his time working. Work consisted of writing long series of equations and some text around them. Proper theoretical science. The children were not to make noise in the house, which would disturb him. In some ways he was the happiest person you could meet. He was utterly passionate and enthusiastic about astronomy ... FDK's life was punctuated by meals and snacks. He had

6

meals a day. Breakfast, morning coffee, lunch, afternoon tea, supper, and at night coffee

(

!

)

with cake. Always. Every day. When my mother, Carla Kahn, was alive, they'd both come home from work at lunchtime. FDK would pop into a delicatessen and buy something special for lunch. I was there a few times

(

somehow being home from school at lunchtime

)

. There was a peace there that was absent the rest of the time in a family with

4

children.
A consequence of Kahn and his wife Carla visiting Leiden, which they did on several occasions, was that they came across letters that Albert Einstein had written to Willem de Sitter. Most of these letters had been written during World War I. The discovery came about in

1974

when archives were moved out of the Leiden Observatory. Franz and Carla Kahn arrived in Leiden for a sabbatical visit and Carla, looking for a task to undertake while her husband was working, offered to index the archives

[

5

]

:-
... Very little had been done for the previous

25

years so all the storage boxes had to be searched. Only in the thirtieth box did anything connected to Einstein appear, but indeed seventeen communications from Einstein varying from postcards to long letters were discovered. ... The letters are remarkable in that they cover the period when Einstein invented his cosmical repulsion to allow a static universe, and de Sitter countered by finding the de Sitter space solution.
As a result of this discovery, Carla and Franz Kahn published the article Letters from Einstein to de Sitter on the Nature of the Universe in Nature in

1975

.

Tragedy struck the family when Carla Kahn died on

24

January

1981

. Later that year Zdenek Kopal retired and Kahn edited the book Investigating the Universe consisting of papers presented to Kopal on the occasion of his retirement in September

1981

. Kahn writes in in that volume

[

7

]

:-
In presenting this volume to you, Zdenek, we ask you to regard it as a token of the great success achieved by the Department that you founded in the autumn of

1951

. May you have a long, happy and active retirement.

Under ordinary circumstances I should have broken off here and got on with the astronomy. But circumstances are far from ordinary. In the spring of

1951

I married Carla, having got to know her a few months earlier. There followed a union uniquely blessed by love and happiness. We had many children, and even a grandchild, and through our different activities, notably the astronomical ones, we acquired a worldwide circle of very good friends. All seemed set to go on in this way when one morning in January this year Carla suffered a severe stroke, and then died on the evening of the next day.

It is a commonplace that life can be cruel. But fortunately fate only very rarely administers so devastating a blow. This paper deals with the first scientific work that I have attempted since Carla's death. I dedicate it to her memory, may she rest in peace.
Kahn became Head of the Department of Astronomy at Manchester in

1981

following Kopal's retirement. In

1993

he was elected a fellow of the Royal Society. The citation for his election reads:-
Franz Kahn has made many original contributions to plasma astrophysics, cosmical gas dynamics and the physics of star formation, with significant early papers on the structure of ionisation fronts and collision-free shocks. More recently he has done important work on stellar winds and galactic fountains, on planetary nebulae and on remnants of novae and supernovae. His versatility is shown by papers on the spiral structure of the Galaxy, on the nature of the Local Group and the account

(

with the late Carla Kahn

)

of the Einstein-de Sitter correspondence. Kahn's style is especially noteworthy for his skill in building simple mathematical models which bring out the essence of the physics.
Kahn served on the council of the Royal Astronomical Society

(1967

-

70)

and served an editor of the Monthly Notices of the Royal Astronomical Society

(1993

-

98)

. He was president of the 'Commission on Interstellar Matter' set up by the International Astronomical Union

(1970

-

73)

. He has been honoured by the International Astronomical Union by them naming the asteroid Kahnia for him.

Following the death of Carla Kahn, Kahn never remarried but he did develop a close friendship with Junis Davis who was an administrator at the Manchester Metropolitan University. Leon Mestel writes

[

11

]

:-
Franz Kahn was an engaging companion, both professionally and socially, wearing his erudition lightly. Like all academics, he appreciated recognition, but never let delay in its appearance worry him unduly. He was a happy man, enjoying each stage of his life as it came.
He died of a heart attack at a petrol station when visiting his son Jeremy at Bourne End, Buckinghamshire. He was buried in the Jewish Section of the Southern Cemetery, Barlow Moor Road, Chorlton-Cum-Hardy, Manchester.

In

1999

the conference 'Astrophysical Dynamics' was held in Évora, Portugal, in Kahn's honour. The Preface by David Berry to the conference Proceedings begins

[

1

]

:-
On a hot, balmy evening in July,

1998

, John Dyson, Dieter Breitchwerdt, António da Costa and myself were sitting in the Praça do Giraldo, the main square of the city of Évora, Portugal, discussing the work of Franz Kahn, late Emeritus Professor of Astronomy, Manchester University, and Fellow of the Royal Society, who had suddenly passed away some months before. We had all commented on how he had influenced the areas in which we had researched and how he had been instrumental in determining our fundamental approach to that research. After reminiscing for some time, we decided that we should celebrate Franz's work in some special way. The conference, Astrophysical Dynamics, was the result, the major emphasis being on theoretical developments in astrophysical dynamics set out principally by Franz's research career. I had been very fortunate to collaborate with Franz on a number of different projects since his retirement. As such, he had visited Évora on numerous occasions, and became a very welcome visitor to the Department of Physics of the university. It seemed fitting therefore to organise the conference here in Évora. The conference was held in the magnificent and historic Colégio Espirito Santo, the main building of the University of Évora over the three days

14

th to

16

th April,

1999

. It was very well attended with about

40

scientists and students from

11

different countries from around the world.
---
---
D Berry, Preface, Astrophysics and Space Science

272

(1

-

3)

(2000)

,

9

-

10

.
J Dyson, Franz Daniel Kahn FRS

(1926

-

1998)

, Astronomy & Geophysics

39

(5)

(1998)

,

5

.

23

-

5

.

33

.
J E Dyson, Franz Daniel Kahn FRS

(1926

-

1998)

, Astrophysics and Space Science

272

(1

-

3)

(2000)

,

17

-

20

.
J E Dyson, Professor Franz Kahn, The Guardian

(

Monday

16

March,

1998)

.
J E Dyson and D Lynden-Bell, Biographical Memoirs of Fellows of the Royal Society

45

(1999)

,

255

-

267

.
F Graham-Smith, Kahn, Franz Daniel

(1926

-

1998)

, astrophysicist and mathematician, Oxford Dictionary of National Biography

(

Oxford University Press, Oxford,

2004)

.
F D Kahn, Dynamics of the Galactic Fountain, in F D Kahn

(

ed.

)

, Investigating the Universe

(

D Reidel Publishing Company, Dordrecht, Holland,

1981)

,

1

-

28

.
F D Kahn, Obituary: Professor Zdenek Kopal, The Independent

(

Friday,

23

June

1993)

.
J Kahn, About my father: Franz Kahn

(15

April

2013)

.
https://jeremykahn.co.uk/

2013

/

04

/

15

/fdk/
J Kahn, Astronomy and lightning

(20

January

2015)

.
https://jeremykahn.co.uk/tag/astronomy/
L Mestel, Obituary: Professor Franz Kahn, The Independent

(

Saturday

22

October

2011)

.
---
Additional Resources (show)
Other pages about Franz Kahn:
Other websites about Franz Kahn:
---
Honours awarded to Franz Kahn
---
Written by
J J O'Connor and E F Robertson
Last Update June 2021