---
Quick Info
Born
12 October 1920
Sydney, New South Wales, Australia
Died
2 December 1961
Aonach Eagach, Glencoe, Scotland
---
Summary
Arthur Hinton Read was brought up in St Andrews, worked at Bletchley Park during World War II and then joined the staff in the St Andrews University Mathematics Department. He was awarded a Ph.D. by Harvard for studies supervised by Ahlfors. He died in an avalanche in the Scottish Highlands.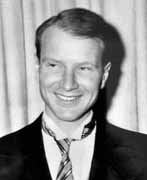 View six larger pictures
---
Biography
Arthur Hinton Read was the son of John Read

(1884

-

1963)

and Ida Suddards

(1887

-

1981)

. John Read, born in Maiden Newton, Dorset, England, had studied chemistry, been awarded a Ph.D. from the University of Zurich, and worked at Manchester and Cambridge before being appointed Professor of Organic Chemistry at the University of Sydney, Australia in

1916

. He sailed from Liverpool but the ship was involved in a collision and he had to make a second attempt. His second attempt to travel from Liverpool to Sydney, Australia, went by ship to New York, leaving Liverpool on

9

February

1916

. From New York, he travelled to Chicago, then to San Francisco before sailing across the Pacific. Ida Suddards, born in Rawdon, Yorkshire, England, was a teacher who sailed from Liverpool to Sydney, Australia, via New York, leaving Liverpool on

1

October

1916

. John and Ida were married in St Andrew's Cathedral, Sydney on

20

November

1916

. On the marriage certificate, Ida gives her occupation as "Inspectress of schools." They had two children, John Hinton Read

(1917

-

2012)

, born in Sydney, Australia,

18

November

1917

and known as Jan, and Arthur Hinton Read

(1920

-

1961)

, the subject of this biography. Let us at this point say just a little about Jan Read, the brother of Arthur

[

22

]

:-
Jan Read, who has died aged

95

, was a scientist, a film and television writer and a wine expert. He lived much of his life in Scotland and his many achievements included working on the classic sword-and-sandals adventure Jason and the Argonauts and persuading the BBC to make Dr Finlay's Casebook, which originally ran from

1962

to

1971

. Read worked on dozens of films and television shows and helped shape the popular perception not only of the avuncular country doctor, but also of the avuncular British bobby as co-creator of the character who became Dixon of Dock Green.
John Read was appointed as Professor of Chemistry in the United College of St Salvator and St Leonards of the University of St Andrews. John, Ida and their two sons, sailed from Sydney on The Aberdeen Line Ship, Demosthenes, and after calling in the ports of Melbourne, Fremantle, Durban, Cape Town and Tenerife, arrived at Southampton, England, on

5

February

1923

.

Arthur began his schooling in St Andrews. He became known around the town when he played Lady Katharine's page in the student procession. The Kate Kennedy procession celebrates the history of St Andrews and its university with characters in period dress parading round the town. The procession had begun in the

15

th century as a Spring Procession but had been banned in

1881

. It was revived in

1926

with the approval of the Principal and the Senate. Because of his father's position as Professor of Chemistry, Arthur Read played the part of Kate's page in the procession, riding in the coach preceded by the historical pageant.

Lathallan School was founded in Colinsburgh, Fife, on

17

January

1930

with J H Nock as the headmaster. It was an independent boarding school for boys who wore short trousers, caps, and red and grey striped ties. Arthur Read became a pupil in

1931

[

17

]

:-
He was good at all subjects but especially strong in Mathematics ... He was captain of Lathallan Rugby and Cricket in

1934

and Victor Ludorum in

1932

,

1933

and

1934

.
Arthur won the top scholarship to Marlborough College in

1934

. This prestigious independent school had been founded in

1843

in Marlborough, Wiltshire, England for the education of the sons of Church of England clergy. In

1939

he graduated from Marlborough College and won a Major Scholarship in Mathematics at St John's College, Cambridge. Not only did he show his outstanding mathematical talents but he quickly showed his outstanding qualities as a chess player. The Lent Term

1940

issue of The Eagle, the St John's College Magazine, states:-
The knock-out Chess Club competition was won by A H Read.
Being an outstanding mathematician and chess player meant that he was a natural choice to be recruited as a codebreaker at Bletchley Park during World War II. He had to put his undergraduate studies on hold and, from February

1941

until September

1945

, he undertook highly secretive work as a codebreaker. We have a note written in his own hand which states:-
The nature of this work should not be disclosed in print ...
Returning to St John's College, Cambridge in September

1945

, he completed his studies and was awarded a B.A. by the University of Cambridge in

1946

. He then returned to Marlborough College as a mathematics master, teaching there from September

1947

to July

1950

. In

1950

he was appointed by the Regius Professor of Mathematics, Herbert Westren Turnbull, as a Lecturer in Mathematics at the University of St Andrews; he took up the appointment in October of that year. Of course with Arthur Read's father being Professor of Chemistry in St Andrews, Arthur knew the Department of Mathematics in St Andrews well. Turnbull was a keen mountaineer, as was his son Derwent Greville Turnbull, and it appears that it was through them that Arthur Read became interested in climbing. Derwent Greville Turnbull writes

[

24

]

:-
[

Arthur

]

started climbing in

1946

, with a fruitless day looking for a pair of spectacles among the screes of Achaladair which he appeared to enjoy immensely, and continued with great zest, climbing mainly in Scotland and Norway.
Let us note that when Arthur Read was appointed to the lectureship in St Andrews he only had an undergraduate degree in mathematics and had published no research papers. Although this may look very unusual by the standards of today, the disruption in education caused by World War II had created a quite different employment situation in the late

1940

s and early

1950

s. Although Read was appointed by Turnbull, he never served under him for Turnbull retired and E T Copson filled the Regius Chair of Mathematics from October

1950

. David Borwein and Ronald Mitchell were also appointed as Lecturers in Mathematics at the University of St Andrews from

1950

, and Arthur Read, David Borwein and Ron Mitchell joined Dan Rutherford who had been on the mathematics staff at St Andrews since

1933

. There were quite large mathematics classes with about

60

first year students,

50

second year students and

25

honours students in

1950

-

51

, the first year Read taught in St Andrews. One of the best students in that year was James Murray who was in Junior Honours in

1950

-

51

.

Arthur Read's first mathematical publication was the book A Signpost to Mathematics

(1951)

. The Publisher gives the following description:-
Of late years several books have been written about mathematics for the general reader. Sometimes the aim has been to intrigue the reader with mathematical problems which can be thrown into a practical form. Sometimes an attempt has been made to disentangle elementary mathematics from the detailed techniques by which they tend to be obscured in the ordinary school course. Yet again the object has been to glimpse the problem of higher mathematics.

The author of this little book has attempted something different still. Mr Read suspects that what the general reader most wants to know about mathematics is not what, say, the Tensor Calculus is all about, but rather what it is like to be a mathematician. The book is written, therefore, with a view to presenting some of the general principles which guide the mathematician in his thinking. Above all, it seeks to present mathematics as a developing subject, and the mathematician as one who is interested in finding things out for himself rather than following the work of others.
Arthur Read begins the book with the following comment:-
The mathematician who is unguarded enough to reveal himself as such at a social gathering is apt to be regarded with a feeling either of horror or of awe. If he should go on to mention the word "Research" he probably evokes the comment, "Of course, I haven't the faintest idea how you can do research in mathematics." It is to the author of such a remark that this book is addressed.
You can read quotes from the book at THIS LINK.

Read quickly proved himself an outstanding lecturer. Copson writes

[

6

]

:-
He rapidly proved himself a brilliant teacher. His students always found him kindly, sympathetic and willing to help, and many are now writing to express their gratitude.
His first research paper was The solution of a functional equation which was published in the Proceedings of the Royal Society of Edinburgh in

1952

. Keen to gain more research experience, Read applied for leave of absence from the University of St Andrews so that he could undertake research at Harvard University. His visit was funded through a Carnegie Trust scholarship and U.S. Navy and Ordnance research contracts while he was at Harvard. He sailed from Southampton on the Mauretania and arrived in New York on

2

September

1952

. He gave his United States address as Department of Mathematics, Harvard University, Cambridge

38

, Massachusetts. Once at Harvard he enrolled for a Ph.D. and his research was supervised by Lars Valerian Ahlfors. He made rapid progress with his research but also found time for other things.

During the summers of

1953

and

1954

Read went climbing in the Canadian Rockies with the Harvard Mountaineering Club. The first was in July and August of

1953

and, once back at Harvard, he wrote a lengthy report of the expedition. In the first paragraph of the report he describes the area in which they climbed:-
... the Columbia River flows northwards out of Lake Columbia for some hundreds of miles and then bends leftwards in a gigantic loop until it is flowing south towards the U.S. border. East of the loop stand the Canadian Rockies proper, penetrated by road and railway to Banff through the Kicking Horse Pass. Within the loop itself is an almost untrodden land of mountain, glacier and forest, and notable among the mountain ranges it contains is the Selkirk range, dominated by the massive Mount Sir Sanford which rises to

11

,

500

feet. The little town of Golden stands at the point where the railway from the East emerges into the Columbia valley. From it a road runs northwards round the big bend of the river, keeping steadily to the right bank. Once across the river you are separated by miles of impenetrable forest, and countless roaring glacial tributaries of the Columbia, from the nearest bridge leading to civilisation.
He completed his research in a remarkably short time and was awarded a Ph.D. from Harvard University in June

1954

having submitted his thesis External Problems on Riemann Surfaces. Later in the summer of

1954

, Read climbed in the same general area as the previous year. In a party of eight, he spent three weeks climbing mountains around Mount Farnham in the Purcell Range.

Copson writes

[

6

]

:-
On his return to St Andrews, he played a full part in the life of the University, as lecturer, as Warden of Dean's Court, and as Regent.
In April

1954

, while still at Harvard, Read had agreed to join the Harvard Mountaineering Club

1955

Karakoram Expedition to climb in the Karakoram range on the India-Pakistan border. Read flew from Scotland to Pakistan in June

1955

to join the other five members of the expedition. Each had responsibilities before going and Read shared the responsibility of purchasing clothing and equipment. They spent two months on the mountains before returning to "civilisation" at the end of August.

While studying at Harvard, Read had met Katharine Eaton

(

born

29

July

1930)

, known as "Kit". They were married in Lincoln, Massachusetts, on

29

December

1955

. In St Andrews they made their home at

53

South Street. They had two children: Richard Eaton Read

(

born in St Andrews on

3

September

1957)

and Katharine Hallett Read

(

born in St Andrews on

5

July

1959

, married Thomas Ross Villars in

2001)

. On

14

June

1958

Arthur Read and his son Richard Read sailed on the Newfoundland from Liverpool to Boston. After spending the summer at Harvard, Arthur, Kit and Richard returned to Scotland, sailing from Montreal, Canada to Greenock, Scotland, on the Carinthia, arriving on

2

October

1958

. They were having a house built at

6

West Acres and moved there from their South Street home soon after arriving back in Scotland.

Arthur Read published three further papers: Conjugate extremal problems of class p =

1

(1958)

; A converse of Cauchy's theorem and applications to extremal problems

(1958)

; and Higher derivatives of analytic functions from the standpoint of topological analysis

(1961)

. Reviewing the

1961

paper Bonami writes

[

3

]

:-
The author gives a method of developing the theory of functions of a complex variable, leading, in particular, to a proof of the existence of the higher derivatives and of the Taylor expansion without appeal to integration in the complex plane.
Read's own introduction to the paper begins

[

21

]

:-
One of the remarkable features of classical complex variable theory is the indispensable part played by integration. As L V Ahlfors has emphasised in his 'Complex Analysis', many fundamental properties of analytic functions, such as the existence of higher derivatives, have never been proved without resort to complex integrals or equivalent tools. The elementary proof by Eggleston and Ursell that an analytic function is light and open makes certain important theorems, including those of Rouché and Hurwitz, independent of integration, and has led more recently to a topological proof of the continuity of the derivative of an analytic function. Other fundamental properties of analytic functions have remained inaccessible by methods of this kind. The present paper gives a development of complex variable theory which leads in particular to the existence of the higher derivatives and to the Taylor expansion without any appeal to complex integration. It will be evident that other standard results can be derived directly from the theorems here proved.
Let me

[

EFR

]

now explain my own contacts with Arthur Read. I attended Madras College, St Andrews, and sat the University of St Andrews First Year Mathematics examinations in June

1961

while still at school. I began my university career at the University of St Andrews in the Second Year Mathematics Course, called Special Mathematics. There were

83

students in the class, seven of them first year students. David Borwein taught an analysis course, Peter Fantham taught a course on abstract algebra, and Arthur Read taught the linear algebra course. It was my first introduction to linear transformations of vector spaces and I really loved it. Read's enthusiasm for the topic was infectious and he lectured with great clarity. I will always remember the morning of Monday

4

December

1961

. I was sitting in the Mathematics Classroom, looking forward to Dr Read's

11

o'clock linear algebra lecture. Copson, with a very solemn expression, came into the classroom and told a stunned class that Arthur Read had died in an avalanche on the previous Saturday.

Arthur Read had gone climbing that Saturday with Philip Gribben, a physics lecturer at the University of St Andrews, and the mathematician Gordon Eric Latta

(1923

-

2014)

, who was on the faculty at Stanford University but had arrived in St Andrews in September

1961

to work with Arthur Read. The three had climbed Aonach Eagach, a difficult climb in the Glencoe region, and were on a ridge

300

ft from the summit when the avalanche occurred. Phil Gribben explained what happened

(

see

[

12

]

and

[

23

]

)

:-
As we crossed an icy patch in a hollow the avalanche started at the summit, which had been swept by sleet and high winds all day. As snow and ice crashed down with a roar Professor Latta, who was at the end of the file, shouted a warning to us. We were about

15

ft apart when it happened. I had walked off the patch when I heard Professor Latta shout. I dived to the side and it all went hurtling past me. I didn't even see Dr Read fall. As the avalanche fell I was battered with snow and lumps of ice. For a few seconds afterwards, in the sudden silence that followed, I thought Prof Latta had gone too. Then I saw him just above me covered with snow. We made our way down the mountain searching for Dr Read among the deep snow but could find no trace of him. Even then we hoped he might be alive. Immediately afterwards we summoned a rescue party from Glencoe and made a search with some help from Hamish McInnes and his two Alsatian dogs, but conditions were too much. It was freezing hard and snow was falling heavily at times.
Arthur Read's body was found on the Sunday in deep snow about

300

ft below where the avalanche had struck. One cannot help thinking of Read's own words in the article "This is why we go climbing"

[

20

]

:-
When the clouds come down on the winter mountains, and the wind blows, the body can go so numb with cold that even a man's resolution in seeking warmth and shelter can be frozen out of him. And if the weather worsens beyond expectation a relatively easy climb can become a struggle for life or death.
The Arthur Hinton Read Memorial Fund was set up in May

1962

. A letter, asking for contributions, begins:-
The family of the late Arthur Hinton Read is instituting a memorial fund from the income of which a prize will be awarded annually to a student of pure mathematics in the University of St Andrews.
The Arthur Hinton Read Memorial Prize continues to be awarded.

After Arthur Read's death, Kit Read returned to Cambridge, Massachusetts, where she became a teacher at the independent Shady Hill School. At a Cambridge dinner party in

1965

, Kit met Theodore Dreier Jr, a medical doctor interested in music, writing poetry and painting. Kit invited Theodore to join her chamber music group; both played the cello. They married in

1967

and Dreier legally adopted Kit's two children, Richard Eaton Read and Katharine Hallett Read. Two more children, Elizabeth Low Dreier and Ruth Antoinette Dreier, were born in

1967

and

1969

.
---
---
Arthur Hinton Read

(

B.A.

1946)

, College Notes, The Eagle, St John's College, Cambridge

(

June,

1962)

,

315

.
Avalanche kills lecturer, The Scotsman

(

Monday

4

December

1961)

.
A A Bonami, Review: Higher derivatives of analytic functions from the standpoint of topological analysis, by Arthur Hinton Read, MathSciNet MR

0174708

.
D Borwein and J R Gray, A H Read Memorial Fund, Mathematics Department, St Salvator's College, St Andrews

(

May

1962)

.
Climber killed by avalanche, The Guardian

(

Monday

4

December

1961)

.
E T Copson, University Memorial Service. Late Dr A H Read, The Citizen, St Andrews

(

Saturday

16

December

1961)

.
E T Copson, Tribute at University Memorial Service. Arthur H Read, M.A., Ph.D., Personal communication.
Deaths. Read, The Citizen, St Andrews

(

Saturday

9

December

1961)

.
J Donaldson and A McEwan, Glencoe: Snow sweeps away university man, Scottish Daily Express

(

Monday

4

December

1961)

.
H S Francis, JR, Arthur Hinton Read,

1922

-

1961

, The American Alpine Club

(1962)

.
http://publications.americanalpineclub.org/articles/

12196219400

/arthur-hinton-read-

1922

-

1961

J Fraser, Arthur Hinton Read, Newsletter, School of Mathematics and Statistics, University of St Andrews

(

June

2023)

.
https://www.st-andrews.ac.uk/assets/university/schools/school-of-mathematics-and-statistics/documents/news/Jun

23

.pdf
Glencoe avalanche kills St Andrews lecturer, The Courier and Advertiser, Dundee

(

Monday

4

December

1961)

.
E L Hirst, John Read

1884

-

1963

, Biographical Memoirs of the Royal Society

(1963)

,

236

-

260

.
History of Lathallan, Lathallan School.
https://lathallan.org.uk/lathallan-history/
Lecturer killed by avalanche, The Times

(

Monday

4

December

1961)

.
Mountain fatality. Lecturer dies in avalanche, The Citizen, St Andrews

(

Saturday

9

December

1961)

.
Obituary. Arthur Hinton Read, Lathallan School Magazine

(1962)

,

3

-

5

.
Professor John Read, The Times

(

Wednesday

23

January

1963)

.
A H Read, A Signpost to Mathematics, Thrift books series; no.

8

(

C A Watts,

1951)

.
A H Read, This is why we go climbing, The Scotsman

(25

December

1956)

.
A H Read, Higher derivatives of analytic functions from the standpoint of topological analysis, J. London Math. Soc.

36

(1961)

,

345

-

352

.
Jan Read, The Herald, Glasgow

(5

December

2012)

.
https://www.heraldscotland.com/opinion/

13083586

.jan-read/
T Sheerin, Two climbers see avalanche kill their friend, Scottish Daily Mail

(

Monday

4

December

1961)

.
D G Turnbull, Dr A H Read, M.A., Ph.D.

1920

-

61

, The Scottish Mountaineering Club Journal XXVII

(153)

(1962)

,

305

-

306

.
University lecturer killed in Glencoe, Glasgow Herald

(

Monday

4

December

1961)

.
S Weintroub, Review: A Signpost to Mathematics, by Arthur Hinton Read, Nature

169

(4304)

(1952)

,

683

.
---
Additional Resources (show)
Other pages about Arthur Read:
---
---
Written by
J J O'Connor and E F Robertson
Last Update September 2023