---
Quick Info
Born
24 March 1924
Kaunas, Lithuania
Died
3 September 2021
London, Ontario, Canada
---
Summary
David Borwein was a Lithuanian born mathematician, brought up in South Africa, who taught in St Andrews, Scotland, for

13

years before spending the rest of his career at the University of Western Ontario, Canada. He wrote

160

papers, mostly on sequences, series, summability and number theory.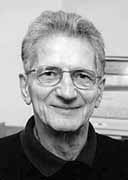 View three larger pictures
---
Biography
David Borwein was the son of Joseph Jacob Borwein

(1893

-

1972)

and Rachel Landau

(1896

-

1985)

. Joseph Borwein, born on

1

January

1893

in Panevezys, Lithuania, attended schools in Lithuania before going to France to study at the University of Montpellier and then to Scotland to study at the University of Glasgow. He joined the Royal Air Force and remained in Britain until the end of World War I, after which he returned to Lithuania. He married Rachel Landau in Lithuania on

10

October

1922

; both were Jewish. Joseph and Rachel lived in Kaunas, Lithuania where their first two children were born, David Borwein, born

24

March

1924

, the subject of this biography, and Nelly Helen Borwein, born

17

July

1927

.

In

1930

the Borwein family emigrated to South Africa and their third child, Hannah Borwein, was born in Natal on

10

October

1932

. From

1930

, Joseph Borwein was employed by the AROP Oil Company which sold petroleum products from the USSR in South Africa. In

1937

South Africa fixed the price of petrol and AROP closed, so Joseph Borwein started his own engineering business. David Borwein attended schools in South Africa before beginning his university education at the University of Witwatersrand in

1941

. He studied electrical engineering and graduated with a B.Sc. in

1945

. With World War II still taking place, he entered the Special Signal Services of the South African forces. After the war ended, he returned to the University of Witwatersrand to study mathematics and, in

1948

, he was awarded a B.Sc. with Honours in that topic. By this time he was married, having married Bessie Flax

(

born about

1927)

on

30

June

1946

in Yeoville, Johannesburg. Bessie was studying Botany and Zoology at the University of Witwatersrand. David was appointed to a temporary lectureship in mathematics at the University of Witwatersrand in

1948

.

On

3

September

1948

David and Bessie Borwein arrived in Southampton, England, having sailed from Durban, South Africa, on the Pretoria Castle, calling at the ports of East London, Port Elizabeth, Cape Town and Madeira. On arrival, both claimed that their country of intended future permanent residence would be England. In London they lived at

422

b Finchley Road, Hendon, and also at

24

Tiverton Road, Willesden. David Borwein enrolled as a Ph.D. student at University College, London where he undertook research in mathematics advised by Stephen Bosanquet. He was awarded a Ph.D. in

1950

for his thesis The Cesàro summability of integrals and in the same year his first two papers were published in the Journal of the London Mathematical Society: On the Cesàro summability of integrals; and A summability factor theorem. In

1951

his next paper On the absolute Cesàro summability of integrals was published in the Proceedings of the London Mathematical Society.

David Borwein was appointed to a lectureship in mathematics at the University of St Andrews in

1950

. In St Andrews the Borwein family lived at Alvie, Buchanan Gardens

(1950

-

1953)

, West View Cottage, Lade Braes Lane

(1954

-

1958)

, and then

4

Abbotsford Place

(1959)

. They had a house built at

10

Strathkinness High Road

(

West Acres

)

and moved into the house in

1960

. Arthur Hinton Read and has family lived next door but one at no.

6

West Acres. David and Bessie's three children were all born in St Andrews: Jonathan Michael Borwein was born on

20

May

1951

; Peter Benjamin Borwein was born on

10

May

1953

; and Sarah Tanya Borwein in

1961

.

Although Borwein was appointed by Herbert Turnbull to the lectureship in St Andrews, he never served under him for Turnbull retired and E T Copson filled the Regius Chair of Mathematics from October

1950

. Arthur Hinton Read and Ronald Mitchell were also appointed as Lecturers in Mathematics at the University of St Andrews from

1950

, and Borwein, Read and Mitchell joined Dan Rutherford who had been on the mathematics staff at St Andrews since

1933

. There were quite large mathematics classes with about

60

first year students,

50

second year students and

25

honours students in

1950

-

51

, the first year Borwein taught in St Andrews. One of the best students in that year was James Murray who was in Junior Honours in

1950

-

51

.

Borwein's next papers continued his study of summability. These, all published in the Journal of the London Mathematical Society, were Note on summability factors

(1954)

, Integration by parts of Cesàro summable integrals

(1954)

, On the absolute summability of Stieltjes integrals

(1954)

, On the abscissae of summability of a Dirichlet series

(1955)

, and A theorem on Riesz summability

(1956)

. For a complete list of David Borwein's papers, see THIS LINK.

Borwein's mathematical career was developing well and his family life in St Andrews was also a happy one. He often took his young boys Jonathan and Peter fishing off the pier in St Andrews. They caught rock cod, and Bessie cleaned them and make fish cakes. Borwein built a cage at the bottom of their garden as a home for their two guinea pigs, Gilbert and Gulliver.

Let me

[

EFR

]

now explain my how my contacts with David Borwein began. I attended Madras College, St Andrews, and sat the University of St Andrews First Year Mathematics examinations in June

1961

while still at school. I began my university career at the University of St Andrews in the Second Year Mathematics Course, called Special Mathematics. There were

83

students in the class, seven of them first year students. Peter Fantham taught a course on abstract algebra, Arthur Read taught the linear algebra course, and David Borwein taught the analysis course. This course was my first introduction to analysis and I enjoyed the clarity and enthusiasm of Borwein's lectures. Also in the Mathematics Department at that time was Bruce Lockhart Robertson Shawyer who was Borwein's Ph.D. student. Not surprisingly, he was undertaking research on summability and he was awarded his doctorate in

1963

for his thesis On Riesz Factors. He left St Andrews in

1962

when appointed at the University of Nottingham. In the same year the joint paper On Riesz summability factors by Borwein and Shawyer was published; it was the first of seven joint papers by Borwein and Shawyer.

The Edinburgh Mathematical Society was, and still is, the main Scottish mathematical society. The Society organised the four yearly St Andrews Colloquium held in St Andrews from

1926

but it had stopped during World War II. The first Colloquium following World War II was held in July

1951

and attended by Borwein. He also attended the

1955

and

1959

St Andrews Colloquia while on the staff at St Andrews. After he left St Andrews in

1963

he continued to return for the St Andrews Colloquium, but we shall say more about that below. The Edinburgh Mathematical Society held about seven lectures each year during the

1950

s, most of which were held in Edinburgh. Borwein gave the lecture On the abscissae of the summability of a Dirichlet series in Edinburgh in session

1953

-

54

. The British Mathematical Colloquium was held annually in various universities in the UK beginning in

1949

. In September

1955

it was held in Exeter and at a meeting of the Committee during the Colloquium, it was decided to hold the

1956

meeting on

4

-

6

September in St Andrews. Dan Rutherford was elected Chairman and David Borwein was elected as Secretary and co-opted onto the Committee. The International Congress of Mathematicians, organised by the International Mathematical Union, met in Edinburgh

14

-

21

August

1958

. The Assembly of the International Mathematical Union met in St Andrews

11

-

13

August, before the start of Congress. David Borwein was the organising secretary for this meeting. In

1959

Borwein was elected as a fellow of the Royal Society of Edinburgh. He was awarded a D.Sc. by the University of London in

1960

having submitted his published papers as a thesis.

In

1963

Borwein accepted an invitation from the University of Western Ontario to spend a year as a visiting professor. During this year, he accepted the offer of a professorship. He was Professor from

1964

to

1966

when he was promoted to Senior Professor. In

1967

he became Professor and Head of the Department of Mathematics at the University of Western Ontario and he continued to hold this position until he retired in

1989

.

Bruce Watson was both an undergraduate and graduate student at the University of Western Ontario and writes in

[

8

]

about David Borwein as his lecturer:-
In

1968

I sat his fourth-year undergraduate course in Lebesgue Measure and Integration in . His lecture notes, which he seemed to reproduce on the blackboard verbatim, were complete and appeared hand-written. I thought at the time that he must be planning to write a textbook. But, as far as I know, he never followed up. Years later, when I taught the same subject matter, I realised that he had made clever use of ordinate sets rather than the more common simple function approach to measurability. This saved a lot of generalisation when moving from  to .

The following year I registered for David's graduate course called "Introduction to Summability Theory." At that time, summability theory was David's main research area. And he used classical, as opposed to functional analytic, techniques. This course was a scary experience for the four graduate students registered. For starters, the textbook was G H Hardy's classic book "Divergent Series," which is not the easiest read. Then, the students did all the lecturing and the audience consisted not only of David, but of all faculty, visiting faculty and post-docs in the summability research group at Western. Each student felt considerable angst before and during his or her turn at the blackboard.
After leaving St Andrews and taking up the appointment at the University of Western Ontario, David Borwein regularly returned to St Andrews for the St Andrews Colloquium. Sometimes he came alone, sometimes with his wife Bessie, and sometimes with other members of his family. Here is a record of his attendance between

1964

and

1996

. In

1964

David Borwein came without family members as he also did in

1968

. In

1972

, however, David Borwein came with his wife Bessie and daughter Sarah. The

1976

St Andrews Colloquium saw the largest participation by Borweins with David, Bessie, Sarah, their son Jon Borwein, Jon's wife and his child Rachel. In

1980

David and Bessie attended while in

1984

, David, Bessie and their daughter Sarah all came. The

1988

St Andrews Colloquium was attended by David without family members, the

1992

Colloquium by David, Bessie and their son Peter, while in

1996

David was the only Borwein to attend. I

[

EFR

]

did not attend the

1964

Colloquium but I did attend all the others mentioned above. It was a great joy to meet David and chat to him on these occasions. Although I had only taken one of his courses at St Andrews, he treated me as "his student," was encouraging, supportive and interested in how my career was progressing. He told me about the achievements of his sons Jon and Peter and introduced me to Jon in

1976

and Peter in

1992

.

David Borwein had an outstanding research record; you can see a list of

160

of his papers at THIS LINK.

He gave a brief summary of his research interests on his web page. This has now been taken down but can still be seen via the Internet Archive Wayback Machine. Here is a version from

2006

[

1

]

:-
My main area of research has been the summability theory of series and integrals, in the study of which I have used both classical and functional analysis. I have also considered problems in measure theory and probability theory, and have done some work in number theory and some on approximate subgradients and coderivatives.

My most recent work has been in collaboration with J M Borwein and latterly also with B A Mares Jr. on some remarkable properties of single- and many-variable sinc integrals, in particular their relationships to volumes of certain symmetric convex polyhedra. This research involved some subtle Fourier transform techniques. I also worked with W Kratz and U Stadtmüller on one-sided Tauberian theorems for methods of summability based on Dirichlet series - these methods include standard power series methods as special cases. There are various outstanding problems in both these research areas which I intend to tackle in the future.
Rasul Shafikov spoke about David Borwein's collaboration with his son Jon Borwein

[

9

]

:-
David and Jon were long time collaborators, and produced a series of papers together in various areas during

2000

-

2020

. Jon was a mathematical jack of all trades, while David's analytic methods were always relevant. Seven of David's ten most highly cited papers in Mathematical Reviews were co-authored with Jon. The most highly cited of all is a

1995

paper which computes sums related to the Riemann zeta function - this is analytic number theory, and analysis.
Borwein played a major role in the Canadian Mathematical Society. He served on the Council in

1967

-

75

, being on the Executive in

1969

-

75

and Vice-President

1973

-

75

. We should note that at that time the society was named the Canadian Mathematical Congress and only changed its name to Canadian Mathematical Society in

1978

. He served again on the Council and the Board of Directors in

1977

-

79

. He was elected President of the Society in

1985

-

87

and also from

1985

was on the Executive. We have mentioned above his role as Organising Secretary of the International Mathematical Union meeting in St Andrews in

1958

but this was not his only involvement with the Union since he served on the Canadian National Committee for the International Mathematical Union in

1983

-

86

.

For several years Borwein was Advanced Problems editor of the American Mathematical Monthly. He served on the editorial board of Analysis. International Journal of Analysis and its Applications. This journal began publication in

1981

and Borwein frequently published in it. He was also an associate member of the Centre of Experimental and Constructive Mathematics at Simon Fraser University and spent several periods working there.

Borwein retired in

1989

, not because he wanted to, but simply because there was a mandatory retirement age of

65

imposed by the University of Western Ontario. He certainly did not stop mathematical research and he published around

60

papers in the

34

years of his "retirement." He was also involved in many other projects. For example, in

[

5

]

his activities for the Youth Science Foundation are listed:-
Two years of judging at Canada-Wide Science Fairs

(

Whitehorse

1995

, North Bay

1996)

. Judge at the International Science and Engineering Fair in Hamilton

(1995)

. Part of group escorting Team Canada to the International Science and Engineering Fair in Tucson

(1996)

, Louisville

(1997

,

2002)

, Fort Worth

(1998)

, Philadelphia

(1999)

, Detroit

(2000)

, and San Jóse

(2001)

. Member of the Youth Science Foundation Scientific Advisory Committee which selected Team Canada for these International Science and Engineering Fair's and also for the ones in Cleveland

(2003)

and Portland

(2004)

.
Borwein actively worked to change the Ontario mandatory retirement age. He was on both radio and television programmes discussing this issue. But he went further than that in his efforts

[

5

]

:-
He made a presentation in December

1992

to the Standing Committee on Administration of Justice of the Ontario Legislature in support of a private member's bill to remove a clause from the Ontario Human Rights Code which allows for discrimination of those aged

65

or more. The bill

(

which he had prompted a local MPP to introduce

)

had second reading approval, but was allowed to die when the parliamentary session ended and never reintroduced.
Borwein's family gave him great joy

[

5

]

:-
In his later years David was increasingly devoted to Bessie and his family, delighting in watching his grandchildren and great-grandchildren grow.
There was, however, great sadness for Borwein too since both his sons died young. Jonathan Borwein, an extraordinarily talented mathematician, died in

2014

at the age of

65

. Peter Borwein, also an extraordinarily talented mathematician, suffered from multiple sclerosis for over

20

years and died in

2020

at the age of

67

. Both have biographies in this archive.

David Borwein's obituary in The Globe and Mail begins as follows

[

5

]

:-
David Borwein died peacefully in his sleep on

3

September

2021

, at home. He was

97

years old, enjoyed good health all his life, and left this world with his sharp intellect and wit intact. He is survived by a tight-knit family and community who love him, above all his wife Bessie, and daughter Sarah, his nine grandchildren and five great-grandchildren.
Jonathan Borwein writes about his father in

[

3

]

:-
[

My father taught me

]

about the 'erkenntnis und praxis' of mathematics: that strange blend of arts and science, of austere Platonic edifice and fallible human creation. I learned of the quiet satisfactions of an intellectual life, but not of a life lived in a vacuum. I was taught to make yet one more revision to a paper and to savour the polish and finish it provided. And, finally, my overarching memory is of my father, at frequent parties arranged by my more outgoing mother, playing generously if not exuberantly the role of host. By mid-evening his eyes would slightly glaze and a stream of cocktail napkins would issue forth covered with formulae and expressions in his careful and concise italic script. I have been unusually privileged. I have worked intensively with both brother and father as equals and have known my father as an intellectual peer for more than a quarter century. In every sense he has been "the best teacher I ever had."
---
---
David Borwein FRSE, University of Western Ontario

(2006)

.
https://web.archive.org/web/

20060228231458

/http://www.math.uwo.ca/~dborwein/cv/
D Borwein and J M Borwein, A Note on Alternating Series in Several Dimensions, Amer. Math. Monthly

93

(7)

(1986)

,

531

-

539

.
J M Borwein, Jonathan M Borwein on David Borwein, in Alex C Michalos

(

ed.

)

, The best teacher I ever had

(

University of Western Ontario,

2003)

,

55

-

57

.
David Borwein, The London Free Press, London, Ontario

(11

September

2021)

.
https://lfpress.remembering.ca/obituary/david-borwein-

1083226063

David Borwein Obituary, The Globe and Mail

(11

September

2021)

.
David Borwein: Biographical Sketch, Computer-Assisted Research Mathematics and its Applications

(

July

2013)

.
https://carmamaths.org/resources/db

90

/DBCV.pdf
Publications: D Borwein, University of Western Ontario

(2012)

.
https://web.archive.org/web/

20120204083353

/http://www.math.uwo.ca/~dborwein/cv/borwein-pub.html
B Watson, David Borwein, Canadian Mathematical Society Notes.
https://notes.math.ca/en/article/remarks-on-david-borwein-as-phd-supervisor/
R Shafikov, David Borwein

(1924

-

2021)

, University of Western Ontario.
https://math.sci.uwo.ca/~shafikov/billboard/Borwein.pdf
The CMS honours the memory of Dr Borwein, Canadian Mathematical Society

(9

September

2021)

.
https://cms.math.ca/news-item/the-cms-honours-the-memory-of-dr-borwein/
---
Additional Resources (show)
Other pages about David Borwein:
Other websites about David Borwein:
---
---
Written by
J J O'Connor and E F Robertson
Last Update September 2023