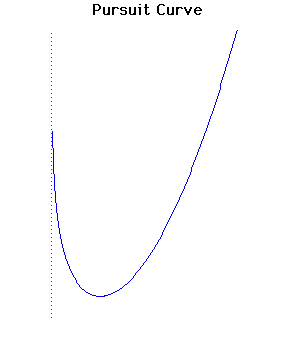 ---
Description
If
moves along a known curve then
describes a pursuit curve if
is always directed towards
and
and
move with uniform velocities. These were considered in general by the French scientist Pierre
Bouguer
in
1732
.
The case here is where
is on a straight line and was studied by Arthur Bernhart.
Pierre
Bouguer
was a French scientist who was the first to attempt to measure the density of the Earth using the deflection of a plumb line due to the attraction of a mountain. He made measurements in Peru in
1740
. A more successful use of this method by the astronomer
Maskelyne
placed the density between
4
.
5
and
5
.
---