Mathematicians Of The Day
5th February
---
---
On this day in

1835

a ceremony to honor The Genius and Discoveries of Sir Isaac Newton was organized by the citizens of the Lincolnshire, his area of birth, a few years after the centennial of his death. By unanimous choice, the committee selected as the speaker, the

19

year-old George Boole.
All present were struck by the youthful age of the speaker and not a little amazed by both his knowledge of the subject and his confident lecturing style.
---
---
---
When the oak is felled the whole forest echoes with its fall, but a hundred acorns are downed in silence by an unnoticed breeze.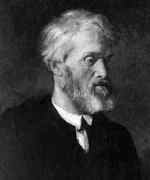 View three larger pictures