Mary Frances Winston Newson
---
Quick Info
Born
7 August 1869
Forreston, Illinois, USA
Died
5 December 1959
Poolesville, Maryland, USA
---
Summary
Mary Newson was an American mathematician. She became the first female American to receive a PhD in mathematics from a European university.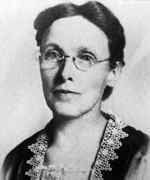 View three larger pictures
---
Biography
Mary Newson was named Mary Frances Winston at her birth, the name Newson being the name of the husband she married. She was always known as May by her friends and family. Her parents were Thomas Winston, a country doctor, and Caroline Eliza Mumford. Thomas Winston had been born in Wales but had come to the United States at the age of two years when his parents emigrated. Caroline had been a teacher before her marriage, teaching French, art and mathematics. Mary was one of her parents' seven surviving children. She was taught at home by her mother, who taught herself Latin and Greek so that she could prepare her children for a university education. Her mother had also studied geology, taking a correspondence course with the Field Museum in Chicago.

In

1884

, when she was fifteen years old, Mary and her older brother Ambrose Paré Winston

(5

October

1867

-

4

December

1959)

, who was seventeen, entered the University of Wisconsin. The University, about

140

km from their home town, had admitted women from

1863

. Ambrose earned his bachelor's degree in

1887

but Mary took a year out to teach in a high school before graduating with an A.B. from the University of Wisconsin in

1889

. She then taught at Downer College, a women's college in Fox Lake, Wisconsin. Downer College had been founded as Wisconsin Female College in

1854

as a Baptist college preparing women for missionary service. However, it was left considerable funds by Jason Downer in

1883

and was providing general education for women when Winston taught there. After teaching at Downer College for a year, Winston applied for a mathematics fellowship at Bryn Mawr College in Pennsylvania. Charlotte Scott was the professor of mathematics at Bryn Mawr and she encouraged Winston to apply again for the fellowship in the following year having narrowly failed to gain the fellowship at her first attempt. Winston taught for a second year at Downer College and was awarded a fellowship to study at Bryn Mawr College in the following year. After spending the year

1891

-

92

at Bryn Mawr College, Winston decided to apply to continue her studies at the University of Chicago which was opening on

1

October

1892

. This was attractive to her partly because she would be returning to Illinois, but also because the mathematics department looked very attractive with professors Eliakim Hastings Moore, Oskar Bolza, and Heinrich Maschke.

Winston was awarded a fellowship to study at Chicago and she spent the year

1892

-

93

there. The International Mathematical Congress was held in Chicago in August

1893

and the starring attraction at this meeting was Felix Klein. Winston was a participant. A second meeting, the Evanston Colloquium, took place at Northwestern University, Evanston, Illinois from

28

August to

9

September

1893

. This two-week Colloquium, attended by

24

mathematicians including Winston, was arranged to allow Klein to deliver a course of

12

lectures, one on each day. Now one thing which Klein had to do while in the United States was to see if he could find a suitable woman to study at Göttingen. The University had decided to have a trial with women students and a decision had been made that mathematics was the area in which the experiment would be carried out and the trial would be made with a foreign woman. Klein explained:-
Mathematics was here rendering a pioneering service to the other disciplines. With mathematics matters are, indeed, most straightforward. In mathematics, deception is least possible as to whether real understanding is present or not.
Winston, encouraged by Bolza and Maschke, was keen to study abroad. In fact Maschke wrote to Klein in April

1893

, before his trip to the United States, telling him about Winston's wish to study in Germany. She spoke to Klein while he was in the United States and he tested her to see if her understanding of mathematics, in particular of differential equations, was good enough to profit from doctoral studies. He decided that it was, but Winston required financial support to be able to study for a doctorate in Germany so she applied to the Association of Collegiate Alumnae

(

now called the American Association of University Women

)

. Christine Ladd-Franklin had proposed that this organisation establish a European Fellowship in

1888

and, when the Association of Collegiate Alumnae decided not to support Winston, Christine Ladd-Franklin wrote to her offering a grant of $

500

to study abroad. Christine Ladd-Franklin had met Winston during the summer of

1893

when her husband Fabian Franklin attended the Evanston Colloquium. Although she did not know whether Göttingen would accept her, Winston travelled to Germany for the beginning of the

1893

-

94

academic year.

On

15

October

1893

Winston wrote home, explaining that

[

5

]

:-
... people who I see here are in general very sceptical as to my chances for admission.
On

17

October she wrote

[

3

]

:-
Klein said that I was to write out an application in my own name and that it was to be sent to Berlin together with that of two other ladies, one in Mathematics

[

Grace Chisholm

]

and one in physics who are also asking admission, and in the meantime we are to be admitted to the lectures. That, of course, means a great deal but there's "many a slip" and everything is to be done very quietly. We are to go to Prof Klein's private office before the regular time for changing classes so as not to meet the students in the halls and from there we are to go into the class. The gentleman in the Physics department ... came also and Prof Klein sat down and, with an occasional suggestion from the other gentleman, proceeded practically to write my application for me.
Winston wrote home again on

29

October

[

5

]

:-
[

I

]

received this morning the official permission to study in the University of Göttingen.
She attended lectures by Klein on 'Hypergeometric Series' and also lectures by Heinrich Weber. In December

1893

she read the paper Eine Bemerkung zur Theorie der hypergeometrischen Function in Klein's Seminar, becoming the first woman to address the seminar. She wrote home after delivering her lecture

[

3

]

:-
... it is altogether a sufficiently difficult thing to write and read a paper in a strange language before such a gathering as Prof Klein's Seminar and before such a man as Prof Klein without the added difficulty of being the first woman to do it in the University. ... It went off reasonably well. I cannot say that I cast much honour on the feminine sex thereby but on the other hand I do not think that anyone will draw the conclusion from it that women cannot learn Mathematics.
Her paper was published in Mathematische Annalen in

1895

. It was not all work for her in Germany, however, and in January

1894

she wrote home describing a hike she had been on up the Ravenskopf with the Morgensternes. This was the family she was living with, the same family with whom Grace Chisholm stayed during her time in Göttingen

[

11

]

:-
We took the train from Göttingen and arrived at Bad Sachsa station at the foot of the mountains at quarter of ten. ... The thermometer stood at about

10

° F when we left Göttingen and I suppose it was somewhat warmer when we got to the station. I felt pretty cold at first. The wind was cold and I had some misgivings as to the comfort of walking in winter time. But by the time we got to the top of the second hill we were warmed up again and did not suffer from the cold at all. ... The fir trees on both sides were covered heavily with snow, but as yet the road was pretty good. ... The sun shone very brightly, there was no wind, and altogether we could not have hoped for a better day. ... We stopped a minute or two and each ate one of the sandwiches which Frau Morgensterne had put up for us. We could not stop long, however, as our feet would get cold.
The Association of Collegiate Alumnae gave Winston a fellowship to fund her during the academic year

1895

-

96

. She completed her thesis Über den Hermiteschen Fall der Laméschen Differentialgleichungen

(

On the Hermite case of the Lamé differential equations

)

in the summer of

1896

and was examined in July

1896

. She had to have the thesis published before she could be awarded a doctorate and she returned to the United States with the manuscript of the work intending to publish it there. However, no publisher in the United States was able to print the mathematical symbols in her thesis so she had to return it to Göttingen. It was published in

1897

and she received the doctorate magna cum laude in that year. Grace Chisholm had been awarded a doctorate in

1895

, so Winston became the second woman, and the first American, student to be awarded a doctorate by Göttingen.

[

Sofia Kovalevskaya was awarded a doctorate by Göttingen in

1874

but she was never allowed to enrol as a student.

]



After she returned to the United States, Winston was appointed to teach at St Joseph's High School in St Joseph, Missouri in September

1896

. After a year she was appointed as Head of Mathematics at Kansas State Agriculture College in Manhattan, Kansas. This was not quite as grand as it sounds, since she was the only member of the department. She was married on

21

July

1900

to Henry Byron Newson in Chicago. Henry Newson

(1860

-

1910)

was a professor of mathematics at the University of Kansas and had published the book Continuous groups of projective transformations treated synthetically

(1895)

. After his marriage he published the books: Graphic Algebra for Secondary Schools

(1905)

; The five types of projective transformations of the plane

(1895)

; and Theory of collineations

(1911)

. Mary Newson, as she now became, resigned her position at the Kansas State Agriculture College and over the next ten years she brought up their three children, a daughter Caroline born in

1901

, a second daughter Josephine born in

1903

and a son Henry born in

1909

. Although she was not now employed as a mathematician, Winston did translate Hilbert's 'Mathematical problems', which he had delivered in

1900

, into English and her

40

-page translation

(

made with Hilbert's permission

)

was published in the Bulletin of the American Mathematical Society in

1902

.

In

1910

Henry Newson died following a heart attack. He had a history of heart problems and, as a consequence, had been unable to get insurance. He had to work

20

years before his widow would qualify for a pension but he died just a few months short. This meant that Mary Newson was in an extremely difficult financial position with no income and three young children to bring up. Also working for the University of Kansas was not possible since Mary's younger sister Eugenie had just been appointed to the English Department. Mary Newson lived in Laurence, Kansas with her parents for three years after her husband died then, in

1913

, she was appointed as an assistant professor at Washburn College in Topeka, Kansas. It was only about

45

km

(28

miles

)

from Topeka to Laurence and Newson left her children to be looked after by her parents in their Laurence home while she lived in Topeka during the week but she was able to return to Laurence to spend every weekend with her children. She participated in the Kansas Association of Teachers and was chair of the Association in

1915

. In

1921

she was appointed as Head of the Mathematics Department at Eureka College in the City of Eureka, Illinois. This College, founded in

1855

, admitted men and women on an equal basis

(

it was one of the first to do so

)

. Judy Green and Jeanne LaDuke write

[

1

]

:-
Newson taught courses in both mathematics and astronomy and shared the leadership of the combined mathematics and science division from

1928

to

1934

when she became chairman of that division. She was required to retire from full-time teaching in

1937

when the college instituted a mandatory retirement policy, but she remained chair of the division another two years and continued teaching part-time until

1942

.
In

1940

she wrote a review

[

7

]

of the book Thomas Jefferson and Mathematics, by David Smith. After describing Jefferson's support for mathematics, she ends her review with this comment:-
When we turn from these thoughts of this early leader of the Republic to the present rather precarious position of our science, we may well wish that more of our politicians and statesmen or even our leaders in education had as sound an understanding of the principles of mathematics and as correct a judgement of its followers.
After she finished teaching at Eureka College, Newson moved to Lake Dalecarlia in Lowell, Indiana. This was a village beside a picturesque artificial lake which Newson loved and had spent vacations there throughout her life. In

1956

, when she was

87

years old, she moved into a nursing home in Poolesville, Maryland, where she was close to her daughter Caroline Beshers. She died one day after the death of her brother Ambrose Paré Winston who had been a professor of economics.

She was honoured at the Women's Centennial Congress in New York City in

1940

as one of

100

women who held positions not open to women one hundred years earlier. After her death, her children founded the Mary Winston Newson Memorial Lecture on International Relations at Eureka College. The reason that the lecture is on International Relations, is that this was one of Newson's hobbies.

---
---
J Green and J LaDuke, Pioneering Women in American Mathematics: The Pre-

1940

PhD's

(

American Mathematical Society, Providence, R.I.,

2009)

.
P C Kenschaft, Change is Possible: Stories of Women and Minorities in Mathematics

(

American Mathematical Society, Providence, R.I.,

2005)

.
K V H Parshall and D E Rowe, The Emergence of the American Mathematical Research Community,

1876

-

1900

: J J Sylvester, Felix Klein, and E H Moore

(

American Mathematical Society, Providence, R.I.,

1994)

.
G Filippelli, Mary Frances Winston, Doc Madhattan, Field of Science

(8

August

2012)

. http://docmadhattan.fieldofscience.com/

2012

/

08

/mary-frances-winston.html
J Green and J LaDuke, Women in American Mathematics: The Pre-

1940

PhD's, The Mathematical Intelligencer

9

(1)

(1987)

,

11

-

23

.
Mary Frances Winston Newson: Obituary, Washington Post

(6

December

1959)

.
M W Newson, Thomas Jefferson and Mathematics, by David Eugene Smith, National Mathematics Magazine

14

(8)

(1940)

,

492

.
K V H Parshall, Anniversary of Mathematics at the University of Chicago, The Mathematical Intelligencer

14

(2)

(1992)

,

39

-

44

.
B S Whitman, Mary Frances Winston Newson, in Louise Grinstein and Paul Campbell

(

eds.

)

, Women of Mathematics: A Biobibliographic Sourcebook

(

Greenwood Press,

1987)

.
B S Whitman, Mary Frances Winston Newson: The First American Woman to Receive a Ph.D. in Mathematics from a European University, The Mathematics Teacher

76

(8)

(1983)

,

576

-

577

.
B S Whitman, An American Woman in Gottingen, The Mathematical Intelligencer

15

(1)

(1993)

,

60

-

62

.
---
Additional Resources (show)
Other websites about Mary Winston Newson:
---
---
Written by
J J O'Connor and E F Robertson
Last Update October 2013