Mathematicians Of The Day
26th July
---
---
On this day in

1609

, Thomas Harriot made the earliest telescopic observation in England. He sketched the Moon, which was at that time

5

days old, viewing it through a telescope with a magnification of

6

.
---
---
---
In my opinion, a mathematician, in so far as he is a mathematician, need not preoccupy himself with philosophy -- an opinion, moreover, which has been expressed by many philosophers.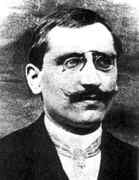 View three larger pictures