Sofia Kovalevskaya
Tom Burslem
1850 to 1868
---
---
Born in Moscow on January

15

th,

1850

, Sofia was the middle child of Vasily Korvin-Krukoskii and Velizaveta Schubert

(

see below

)

. Vasily was an artillery general from the Russian Nobility and Velizaveta was from a family of German scholars who had settled in Russia in the

18

th Century, so both had benefited from a good education. When Sofia was born she was a disappointment to her parents as they had waited six years from the birth of her sister Aniuta

(

see below

)

for the arrival of a son and heir. Her elder sister had attention lavished on her as the first born and her mother never considered Sofia as attractive or as socially acceptable as her sister. So when the family had guests at the house, it was always Aniuta who was brought out to meet them. The family nurse, Praskovia, recognised the rejection of Sofia by her parents and consequently took the girl under her wing.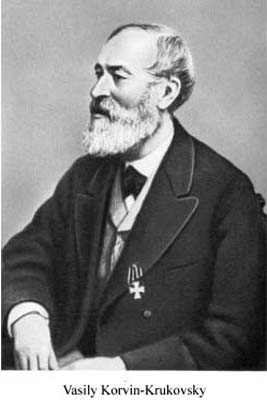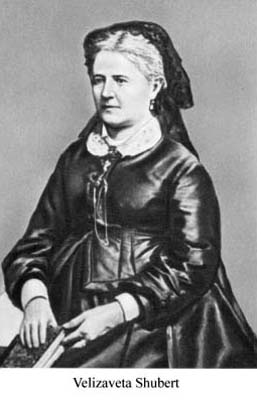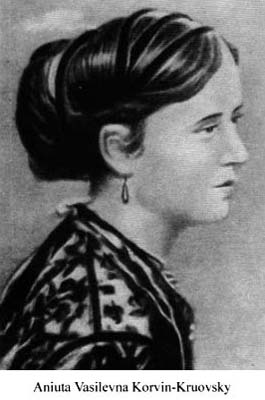 Sofia was a strong willed youngster and there are stories of her resorting to her fists when she did not get her own way, this strong character would help her later in life as she faced many obstacles, not least the prejudices against women in society. Five years after Sofia's birth a son arrived and he received even more attention than his sister Aniuta.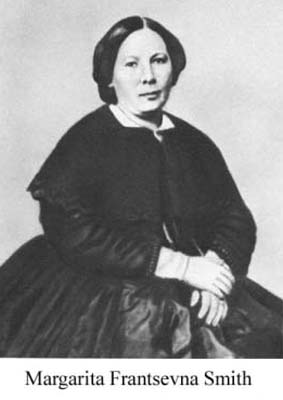 When Sofia was eight the family moved to Palibino. Upon moving there, Vasily had more time to spend at home and decided that Sofia should be educated before she turned into the spoiled and ignorant girl her sister had become. So Sofia was taken out of the nurse's charge and put into the care of the family governess, Margarita Frantsevna Smith

(

see right

)

. The governess was a strict English woman who was raised in Russia. She was forbidden to inflict punishment in the household, so would instead humiliate Sofia before the family and servants. Sofia would be given a yellow ticket that spelt out her misdemeanour and made to wear it to dinner. Sometimes Sofia was caught reading books from the family library that weren't assigned to her and on hearing this news her father would have to reprimand her to protect the governess' authority.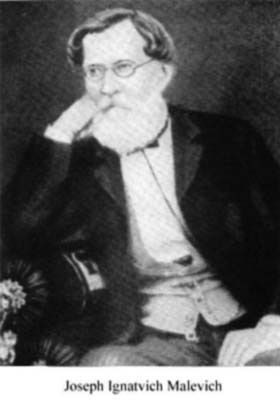 In the same year that the family moved Vasily decided to get Sofia a tutor to give her a broader education. At the time her sister was too much of a headstrong young lady for a return to the classroom and her brother was not old enough. Vasily's decision was not the norm in all families at the time, most noblewomen were educated in the arts of music, needlecraft and painting and also in French, but it was very rare for women to be educated in the sciences. An arrangement such as that was not satisfactory for a family with such a broad range of academic interests as the Korvin Krukovskys. Something else that may have influenced Vasily's decision to educate Sofia was his acquaintance with Dr Nicholas Pirogov, a surgeon during the Crimean War. Pirogov, now rector of Kiev University helped start the debate over education for women. He was a man fed up with education that "turned upper class girls into dolls, dressed up and put on display". He thought that women should also be "challenged academically as intelligent beings" , though his reason was partly so that they could become better wives and mothers. So Vasily enlisted the help of Joseph Ignatvich Malevich

(

see right

)

as Sofia's tutor. Malevich's previous experience had been almost exclusively in preparing boys for military, civil or academic careers. However he did not vary his teaching methods greatly for his female pupils and it may well have benefited them to be treated as equal to their male counterparts. Malevich was to be Sofia's tutor from the age of eight to seventeen. During this time he taught her a broad range of subjects in such diverse fields as penmanship and mineralogy. Often new topics would be discussed at length with other members of the family, and encouraging Sofia to participate in these discussions helped her to develop an admirable skill in being able to argue her views clearly, concisely and convincingly.


It was also during this time of education that there was another great influence in her life, that of Pyotr Vasilievich Krukovsky. Pyotr was her father's elder brother and had escaped a life in the military due to his feeble constitution. He was only educated to secondary level and had no formal training in mathematics, but was enthusiastic and loved to question the things he read. Pyotr was rather like a grandfather figure to Sofia, he had time to lavish on this middle child, envious of the attention and privileges that her siblings received, playing games with her and telling her stories. He would play chess with the young girl and discuss at length a wide range of subjects, many scientific, treating her as if she were an adult. Although the young Sofia could hardly grasp many of the ideas that he talked about, he sparked an interest in mathematics that would stay with her throughout her life. In her words:
Although he had never studied mathematics, he cherished the most profound respect for that science. He had gathered a certain amount of mathematical knowledge from various books, and loved to philosophise about them, on which occasions he often thought aloud in my presence. I heard from him for the first time, for example, about the quadrature of the circle, about asymptotes which the curve always approaches without ever attaining, and about many other things of the same sort- the sense of which I could of course not understand as yet, but which acted on my mind, imbuing me with a reverence for mathematics, as for a very lofty and mysterious science, which opened out to those who consecrated themselves to it a new and wonderful world not attained by simple mortals.

Not just concerned with science, Pyotr read with equal enthusiasm books on travel, history and politics. He took a special interest in politics and was full of many social and economic ideas that he dreamt might benefit mankind. His passion for politics no doubt played some part in the political beliefs that Sofia came to hold as an adult. Another of her earliest memories of a curiosity for mathematics was also due, partly to her uncle Pyotr's influence. Upon moving to Palibino the family redecorated their new home, and as there were many rooms in their massive house, there was not enough paper to cover one of them, the children's nursery. It was considered too much effort to order paper all the way from Petersburg just for one room and so eventually a few years later, in an effort to improve it Vasily covered the walls with sheets of Ostrogradski's lithographed lectures that he had used in his youth. The lectures were on differential and integral analysis and Sofia upon reading them recognised things that her uncle had talked about. This could be described as Sofia's first encounter with calculus.

Sofia attributed much to the time with her uncle, and in her Recollections placed little importance on the tutoring provided by Malevich, much to his annoyance. As Sofia progressed in her tutoring, her enthusiasm for maths grew and grew, though it took a while for Malevich to notice her growing interest. It grew such that she started to neglect her other studies, and on hearing this, according to Sofia, her father decided that she had progressed far enough in her mathematical studies and put an end to them

(

though in Malevich's recollections Vasily was pleased with this news

)

. This was not enough to stop the headstrong young girl and she would sit up late at night reading books on mathematics while the rest of her family slept.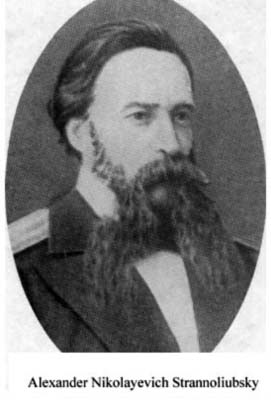 It was after her father put an end to her studies that a neighbour, Professor Tyrtov brought around to the house a copy of his new book on Physics as a gift to the family. Sofia reading the book didn't understand the trigonometric functions as neither she nor her tutor had ever encountered them. She attempted to reason through the functions herself replacing values of sine with the chord of an arc. With small angles these values almost coincide and luckily Tyrtov had used only small angles. When she told Tyrtov that she had read his book with great interest he thought that she was boasting, but when she discussed with him the methods she had used of arrive at the solutions of the formulae, Tyrtov was astounded. The steps she had followed were similar to those used in the first explanations of trigonometric functions. He immediately went to Sofia's father to convince him of the need for Sofia to be taught mathematics to a higher level. He went as far a to compare her to Pascal. This pressure eventually resulted in the hiring of Alexander Nikolayevich Strannoliubsky

(

see right

)

as a tutor for mathematics when the family visited Petersburg. Strannoliubsky was an accomplished teacher who came to be considered the foremost Russian teacher of mathematics at the end of the nineteenth century. It is thought that Malevich was not made aware of this appointment in order to spare him of the acknowledgement of his own inadequacies in mathematics.

---