Vladimir Andreevich Steklov
---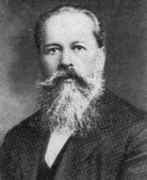 View three larger pictures
---
Biography
Vladimir Steklov
's father was a clergyman who taught history and Hebrew at the Nizhni Novgorod seminary. His uncle on his mother's side of the family was a famous literary critic. Vladimir Steklov inherited many of these family talents and he himself had considerable literary and musical talents. Had he not made a career from mathematics he could well have made his profession as an opera singer.
Steklov entered the Alexander Institute in Nizhni Novgorod at the age of
10
years. He studied there for eight years graduating in
1884
. He entered Moscow University but, after one year, he transferred to Kharkov University. There he became a student of
Lyapunov
and, after a highly successful university career, he graduated in
1887
. Steklov remained at Kharkov University working towards becoming a university teacher. In
1891
he was appointed Lecturer in Mechanics and worked towards his Master's Degree.
For his Master's thesis Steklov worked on the equations of a solid body moving in an ideal non-viscous fluid. There were four cases to be considered in integrating the equations which arose from this problem, and two of these cases had been solved by
Clebsch
in
1871
. Steklov solved the third case in his thesis, the final case being solved by Steklov's supervisor
Lyapunov
in
1893
. In fact
1893
was the year that Steklov was awarded his Master's Degree. Then, in
1896
, Steklov was appointed to an extraordinary professorship of mechanics and continued to work for his doctoral dissertation.
For his doctoral dissertation Steklov worked on problems that arose in
potential theory
, electrostatics and hydromechanics. He reduced problems of this type to
boundary-value problems
of Dirichlet type using rigorous mathematical analysis. Steklov was awarded his doctorate in
1902
and, in that year, his supervisor
Lyapunov
accepted an appointment at St Petersburg. Steklov was appointed to the Chair of Applied Mathematics at Kharkov University which
Lyapunov
had vacated.
Steklov had been an active member of the
Kharkov Mathematical Society
, serving the Society as secretary in
1891
and deputy chairman in
1899
. In
1902
, the year he was appointed to the Chair of Applied Mathematics, Steklov became chairman of the Society and held this post until
1906
when he moved to St Petersburg to take up the Chair of Mathematics there.
One of the most remarkable facts about Steklov was that he kept a diary for about
20
years, documenting in detail every day the events of his life. We must know more of Steklov's life than almost any other mathematician but the diaries are of interest far beyond the world of mathematics as they record events through a particularly dramatic period of Russian history. Steklov's entry for each day would begin with a record of the weather conditions at
10
a.m. He would record the temperature, atmospheric pressure, the degree of cloud cover, whether there was rain or snow. Then every night he would complete his record of the events of the day. He gave details of letters he had received and letters he had written that day. All those he visited or who visited him are recorded. The final entry was the weather conditions at
3
.
30
a.m. giving the same details as the
10
a.m. entry.
Through the diary we know how well every student that Steklov examined performed in their examination. We know the lectures that he gave on each day. For example on
10
September
1908
:-
Began lecturing at the University on the integration of partial differential equations. There were quite a lot of people. Before the lecture I said a few words about A N Korkin

[

who died on

8

September

1908]

and suggested that the students pay tribute to his memory by standing up, which of course they did.
His lecture course on the integration of partial differential equations was to third year students and the lectures went on until April
1909
. He records on
25
April
1909
:-
Finished my lectures on integration of equations. For some reason, the students greeted the end of my lecture with applause

(

were they happy that I had finished?

)

.
Steklov had strong political views at a time when political feelings in Russia ran high. He was strongly against the Tsarist Regime and sympathised with progressive students. In fact this made him a very popular teacher at St Petersburg and, coupled with his excellent lecturing skills, brought many students to study at the Department of Mathematics and Physics. Among the students that he taught at St Petersburg were
Friedmann
,
Smirnov
and
Tamarkin
.
The outbreak of World War I in
1914
brought an upsurge of patriotic fervour centred on the tsar which was not shared by Steklov . When the German form of the city's name was changed to the Russian name of Petrograd, Steklov wrote in his diary entry of
2
September
1914
:-
St Petersburg has been renamed Petrograd by Imperial Order. Such trifles are all our tyrants can do ... religious processions and extermination of the Russian people by all possible means. Bastards! Well, just you wait. They will get it hot one day!
In
1910
Steklov had been elected to the
Russian Academy of Sciences
. Then in
1919
he became vice-president of the Academy.
A P Yushkevich
writes in
[
1
]
:-
During the civil war, military conflicts, economic decline, and the early stages of reconstruction, he proved to be a brilliant scientific administrator. For eight years he worked tirelessly to maintain, and later to enlarge, the activity of the Academy and to reorganise it in order to bring science and practical requirements closer together.
In
1921
Steklov founded the Institute of Physics and Mathematics and served as its director until his death in
1926
. In
1934
the Institute was split into two separate Institutes of Physics and of Mathematics and the Mathematics Institute was named the V A Steklov Mathematical Institute.
Steklov made many important contributions to applied mathematics. In addition to the work for his master's thesis and his doctoral thesis referred to above, he reduced problems to boundary value problems of
Dirichlet
type where
Laplace's equation
must be solved on a surface. He wrote
General Theory of Fundamental Functions
in which he examined expansions of functions as series in an infinite system of orthogonal
eigenfunctions
. In fact the term "Fundamental Functions", which is due to
Poincaré
, means eigenfunctions in today's terminology.
Steklov was not the first to examine series expansions in terms of infinite sets of orthogonal eigenfunctions, of course
Fourier
had examined a special case of this situation many years before. Steklov, however, produced many papers on this topic which led him to a general theory to replace the special cases examined by others. He studied a generalisation of
Parseval
's equality for
Fourier series
to his general setting showing this to be a fundamental property. In all his list of publications contains
154
items.
E A Tropp, V Ya Frenkel and A D Chernin, writing in
[
3
]
, say of Steklov:-
He was not only an outstanding mathematician but also had an unusually bright personality. ... Steklov has bequeathed to us not only classical works in mathematics and mathematical physics, but also works of some literary merit. These include his book To America and back

(1925)

, based on his impressions of his trip to the United States, as well as his books about Lomonosov and Galileo. Yet his vast literary legacy

[

his diary

]

is still waiting to be published and commented upon.
---
---
A P Youschkevitch, Biography in Dictionary of Scientific Biography

(

New York

1970

-

1990)

. See THIS LINK.
G I Ignatius, Vladimir Andreevich Steklov,

1864

-

1926

(

Moscow,

1967)

.
E A Tropp, V Ya Frenkel and A D Chernin, Alexander A. Friedmann : the man who made the universe expand

(

Cambridge,

1993)

.
V S Vladimirov and I I Markush, Academician Steklov mathematician extraordinary

(1983)

.
V S Vladimirov and I I Markush, Vladimir Andreevich Steklov- scientist and administrator

(

Russian

)

(

Moscow,

1981)

.
E Ya Bahmutskaya, On the pedagogical activity of V A Steklov in the Kharkhov Technological Institute

(

Russian

)

, Istor.-Mat. Issled.

6

(1953)

,

529

-

534

.
A I Demcisin and V S Sologub, V A Steklov's studies in the theory of boundary value problems for ordinary differential equations

(

Ukrainian

)

, Narisi Istor. Prirodoznav. i Tehn.

23

(1977)

,

21

-

31

.
I Ya Depman, V A Steklov at Petersburg University

(

Russian

)

, Istor.-Mat. Issled.

6

(1953)

,

509

-

528

.
N M Gyunter, The work of V A Steklov in mathematical physics

(

Russian

)

, Uspekhi Matem. Nauk

(

N S

)

1

(3

-

4)

(13

-

14)

(1946)

,

23

-

43

.
I I Markus, The establishment of the St Petersburg school of mathematical physics by V A Steklov

(

Ukrainian

)

, Narisi Istor. Prirodoznav. i Tehn.

17

(1972)

,

3

-

8

.
H O Ondar, A certain work of V A Steklov on probability theory

(

Russian

)

History and Methodology of Natural Sciences. IX: Mechanics, Mathematics

(

Moscow,

1970)

,

262

-

266

.
V I Smirnov, Vladimir Andreevich Steklov

(

on the occasion of the

20

th anniversary of his death

)

(

Russian

)

, Uspekhi Matem. Nauk

(

N S

)

1

(3

-

4)

(13

-

14)

(1946)

,

17

-

22

.
V I Smirnov, Recollections of Vladimir Andreevich Steklov

(

Russian

)

, Trudy Mat. Inst. Steklov.

73

(1964)

,

5

-

13

.
Y V Uspensky, Vladimir Andreevich Steklov, Izvestiya Akademii nauk SSSR

20

(1926)

,

837

-

856

.
---
Additional Resources (show)
Other websites about Vladimir A Steklov:
---
Honours awarded to Vladimir A Steklov
---
---
Written by J J O'Connor and E F Robertson
Last Update December 1997