Mathematicians with Paris streets named after them
---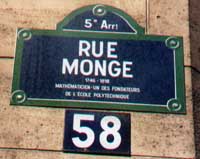 There are nearly
100
Parisian streets, squares, boulevards etc. named after mathematicians in our archive.
A location map for these streets is at
THIS LINK
.
Mostly, of course, they are French but there are some others too. For example, there is a place on the Avenue Marceau about
300
metres from the Arc de Triomphe where streets named after
Newton
,
Galileo
and
Euler
all come together.
Perhaps the most surprising fact is that there is no Paris street named after
Fourier
.
(
The street on which he was born in Auxerre is now called after him as you can see at
THIS LINK
.
)
A
Walk around the the Latin Quarter of Paris
is available at
THIS LINK
.
Click on the name below to go to the biography.
The
Mairie de Paris
have a website at
THIS LINK
giving the history of all Parisian street names and if you click on the
M
next to the street you can see these details.
You can see an interactive map by clicking on the
I
next to the street name.
The French Wikipedia has
entries on most streets
also. You can see these by clicking on the
W
next to the street name.
Thanks to Pierre Charles Pradier, Frédéric Grosshans, Evelyn Lamb and Knut Hegna for telling me about some I missed, to Francis Clarke for telling me of some I had wrong, to Joe Lestrange for telling me about the Wikipedia links and to Karen McVicar and Michael Angelasto for telling me where the Mairie of Paris had moved their files to.